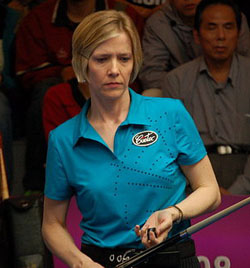 Allison Fisher
Manila, Philippines- Great Britain's
Allison Fisher
will lead the European forces invading Manila next week at the Yalin Women's World 10-Ball Championship. Spain, Italy, Germany, Norway, Ireland, Austria, Netherlands, and Switzerland will be represented for the Euro front. Fisher has long been regarded as not only the greatest player to ever come out of Europe, but perhaps the greatest women's player in history.
The Dragon Promotions produced event will take place October 23 starting with the Stage 1 Qualifier at Star Billiards Manila, the players meeting and press conference October 24, and then the main event October 25-29th,2010 taking place at Robinson's Galleria connected to the Crowne Plaza, host hotel of the event. Nuvo City Lifestyle Center will host the non-televised matches at their nearby event hall in Quezon City. 48 of the world's greatest women's players will attend the event to become the World Champion of 10-Ball. This year's event is title sponsored by Yalin Tables, the premier billiard table manufacturer in China.
Fisher was the last non-Asian player to win a women's World Championship back in 2001, and recently finished 2nd at this year's World 9-Ball. In a quick interview with The Duchess of Doom, which Fisher is known as to fans on tour, she reveals her thoughts on her recent resurgence.
How do you feel about your game?
"I'm playing the best pool of my life right now. I know I'm a veteran, but I'm still improving. I think my recent results show that, and I'm expecting myself to do even better than ever before. "
What have you been doing to change your game?
"That's a secret!"
Who's going to be your biggest challenges?
"Honestly, I have to say myself. The last two major championships, I made mistakes at the end but it could have easily went the other way. I don't feel that I got beat. That being said, of course the Asians are going to be tough since they've been dominating the World Championships the past few years. But I plan on changing that."
The Yalin Women's World 10-Ball Championship is sponsored by BCN Balls, Leqi Cloth, Crown Plaza Galleria Ortigas, Magic 89.9, Philippines Star, Nuvo City, and Robinson's Galleria. The event will be airing on ABS-CBN and internationally on ESPN Star Sports. The event will be broadcasted live for all five days of the main event on ABS-CBN with 25 hours of broadcast television coverage. Www.Top147.com will also be giving it live daily coverage in China.
Stories, complete info and updates will be on www.WomensWorld10Ball.com and Brackets will be hosted by www.AZbilliards.com
With these global network and media partners the Yalin Women's World 10-Ball Championship will be the biggest and most watched women's billiard event in history.
Yalin Billiard Goods Co., Ltd., established in 1993, located in Jinan the Northern part of China, is specialized in the production of high quality billiard tables and accessories. In its 100,000 square meters facility, Jinan Yalin Billiards is one of the world's largest manufacturers of billiard tables and products in its. Yalin manufactures many kinds of billiard tables and its accessories including Snooker tables, American style pool tables and Russian pyramid style. Also other sporting games such as family billiard/tennis table; international standard tennis table for entertainment, and any customer designed tables. Yalin has received the highest marks internationally than any other Asian manufacturer and was selected by Brunswick Billiards as their sole exclusive partner in China. Yalin has exported high quality tables to over 70 countries including the United States, France, Canada, Russia, Japan, Singapore, Arabia, and more. Visit http://www.yalin.cn/