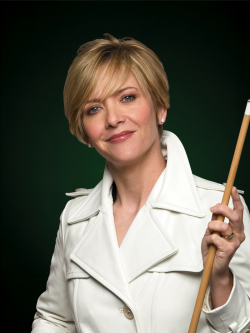 It has been smooth sailing so far for Allison Fisher
The second stop of the 2009 WPBA Season brings us to our hosts, the Blue Chip Casino for the 6 year in a row. With a new arena to shoot in, the play began this Thursday morning with several top players absent including Anna Kostanian, Tiffany Nelson-Crain and Jennifer Chen. This may open the door for players below them in the rankings to jump way ahead after this event.

Last years' Champion, Allison Fisher, comes into this event after a month long tournament-fest, having played the Amway Cup, the Philippine 10 Ball Open, the Women's World 10 Ball Championships and finally the China Open. Many of her competitors were right there with her, including Kelly Fisher; Vivian Villarreal; Sarah Rousey; Melissa Little; Jeanette Lee; Karen Corr; Iris Ranola; Gerda Hofstatter; Ga Young Kim, Jasmin Ouschan, Xiaoting Pan; Yu Ram Cha and more. How this will affect these players for this event has yet to be seen.

Meanwhile, Monica Webb and Helena Thornfeldt, who did not travel to these events, themselves have been working 16-18 hours a day at their new billiard room, Stix, in Temple, GA, so they come to the Great Lakes Classic with not much more energy than the above-mentioned hard traveling ladies. If top 24 ranked Pro's such as Kim Shaw, Melissa Herndon, Kim White & Liz Ford are able to take advantage of the situation, we could very well see them jump in the rankings.

They'll still have to contend with the players who had the greatest success abroad – Karen Corr who finished 2nd in two separate events, and Kelly Fisher, who finished just behind Karen at the China Open in 3rd, tied for 9th in the male dominated Philippine 10 Ball Open and had very good showings in the other two events.

The Great Lakes Classic kicked off with a private V.I.P. Pro-Am hosted by The Blue Chip Casino. The atmosphere as always was loose and the player's all had a great time with their amateur teammates. Tournament play began Thursday, uneventfully. There were several players for whom the Great Lakes Classic is their first ever WPBA Event, true rookies! Kathleen Moon and Rhio Flores, both qualifiers, enjoyed "lucky" draws (yes I'm being facetious), playing Vivian Villarreal and Karen Corr respectively. Welcome to the WPBA! Kathleen made a good go of it, but lost 9-5, and Rhio lost 9-3 to the always tough Corr.

Northwest Women's Pool Association Regional Tour Representative for this season, Liz Cole, had a great first match versus Ewa Laurance. Ironically, Liz had drawn Ewa for her first round match last year at this event, and lost 9-4. This year, however, was a different story as Liz turned the tables on the veteran, and defeated Ewa 9-4. Iris Ranola, after winning her first round match, played versus Jeanette Lee, which was broadcast free over the internet thanks to our Presenting Sponsor for Web Streaming 2009, PoolDawg.com. Other web matches included Jasmin Ouschan vs. Cristina Delagarza, and Sarah Rousey vs. Sarah Ellerby to name a few.

The All-Sarah-Special turned out to be one of the most interesting to view online. Rousey found herself down 1-6 to Ellerby, who was returning to the Tour since her last outing at the Carolina Classic '08. But Rousey, never one to give up, took a break, came back and stormed to an 8-7 lead. All looked to be done in game 16 and even though she ended up near the rail with an off angle that could lead to a scratch if she shot the 9 softly, she jacked up and instead of using a firm nip stroke, power stroked instead and the 9 rattled in and out of the pocket. In game 17, Rousey had a safety play on the 6, but whether her confidence was shattered or perhaps tired from all the traveling she'd been doing the past month, flubbed the safety leaving Ellerby a simple combination to the 9 ball to win the match, 9-8. Brutal indeed!

Pam Cimarelli, who recently gave birth to a healthy baby girl, is back via a rankings invitation and played solidly against Helena Thornfeldt in the first round. Pam played strong and defeated Helena, 9-7 but ran into Julie Kelly in round two. Julie took care of business in quick time, winning 9-1.

In what could be considered a minor upset, Tracie Hines defeated top ranked Kim Shaw in their 2nd round match, 9-6. Tracie, who is an Exempt player for '09, took most of last year off and is returning in full force this season. She'll play versus Vivian Villarreal in the 3rd round on Friday.

Allison Fisher had no problems defeating her opponents in her first two matches of the event, and the same could be said for Monica Webb, Kelly Fisher, Xiaoting Pan, Ga Young Kim, Karen Corr, and Jasmin Ouschan. Jeanette Lee played a feature 2nd round match versus Philippine star, Iris Ranola and this match was broadcast free over the web. Although Iris kept the match close early on, Jeanette proved too strong and defeated Iris 9-5. Julie Kelly, Melissa Herndon, My-Hanh Lac, Yu Ram Cha, Gerda Hofstatter and Miyuki Sakai all round out the 3rd round players on the winner's side. All are WPBA Exempt Professionals.

The first round web match will feature Ewa Laurance versus the rookie from the Mid American Ladies 9 Ball Tour (a WPBA Regional Tour), Kathleen Moon.

Stay tuned for more action from the WPBA Great Lakes Classic!