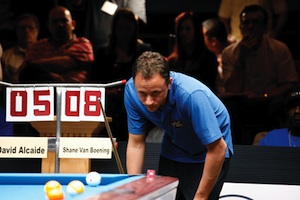 Shane Van Boening
HAVING LOST the last two Mosconi Cups, America will be looking to get back on track at the York Hall this December, and with that Matchroom Sport can announce the selection criteria and qualifying events for the '12 American team.
The American Mosconi Cup Ranking will consist, currently, of five events – all taking place within the USA. In addition to the calendar of events, other tournaments, currently in the planning stages, may be added to the list, although all events qualify via the standards set for the current BCA ranking system. Events which fail to qualify for official ranking points therefore cannot qualify as Mosconi events.
Only players finishing in the last 32 of each event will be allocated points and at the conclusion, after the 2012 US Open, the top two players will automatically gain entry to the Mosconi Cup side.
The remaining three players will be Matchroom Sport wildcard picks although the ranking will play a part in this.
The Events
1) Turning Stone Classic Winter Event. Verona, NY. 15-18 December
2) The Players Championship at Valley Forge, 8-11 March
3) US Open 10-Ball Championship. Las Vegas, 14-19 May
4) Turning Stone Classic Summer Event. Verona, NY. August
5) The US Open 9-Ball Championships. Virginia Beach, 20-27 October
The Points Allocation
The points allocation for these will apply to players finishing in the top 32 or equivalent and will be the same as that used on the BCA Points List. The basis of this will be:
Each event's points allocation will be weighted based on the field (+/- 64 players), the prize fund (+/- $50,000 to $100,000) and the number of players participating in the current Top 20 of the BCA Points List (+/- 12-16 players).
With
Shane Van Boening
having won the opening event on the roster, the Turning Stone back in December, the South Dakota Kid is on track to be making his sixth consecutive Mosconi Cup appearance.