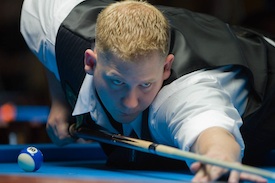 Brandon Shuff (File photo courtesy of Jeff Smith)
Mark your calendars! It's that time again The 21 st annual 4-Bears 8-Ball Classic will be held this April 19-22nd at the Four Bears Casino and Lodge in New Town, North Dakota. This event, which began as a memorial to Kelly Demeray in 1992, has grown over the years and now features a $10,000 added money 8ball tournament and a Thursday early bird special $3,000 added 9-ball tournament with a field of players that includes such stars as
Shane Van Boening
and
Brandon Shuff
and
Stevie Moore
New this year the committee has arranged to have Mr.
Ray Hansen
, aka Big Truck come and do the live stream for the event, so for those not attending will be able to watch the event live @ poolactiontv.com. Ray will also be doing some auctions and giveaways during the live stream. So don't miss out. He has also arranged for Brandon Shuff to attend and and put on a challenge the pro charity event to benefit the local youth.
Advertisement opportunities are still available, for more information on the tournament or advertisements you can contact
Ray @701-421-0604
bill @701-421-1305
www.4bearsclassic.com
Thanks and a tip of the hat to General Manager Pat Packinuea, Scott Wilson and Spencer wikinson for their support in holding the event at the Four Bears Casino and Lodge.