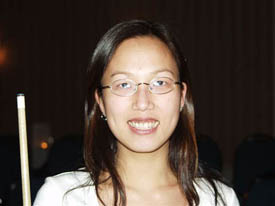 Hsin Huang
The nine-ball division is underway at the Hard Times Summer Jamboree at Hard Times Billiards in Sacramento. The original field of 74 players has been narrowed to 48 players, with 16 undefeated.
The winners side is still packed with top talent including Alex Pagulayan, Tony Chohan, Shawn Putnam, Max Eberle, Dick Lane, Charlie Bryant, Dan Basavich, Morro Paez and the lone female still on the winners side, Hsin Huang.
Players on the one-loss side include Michelle Rakin, the other female in the field, as well as Bob Hunter, Ernesto Dominguez, Jesse Bowman, Scott Frost and Santos Sambajon.
Sambajon, who won the one-pocket division on Thursday, still has a chance for the $1000 bonus awarded to any player that can win both the one-pocket and 9-ball divisions.
Matches get underway at noon on Saturday and the field will get down to four players by the end of play on Saturday night. The eventual winner on Sunday will collect $5000 for the tournament.
Photo courtesy of Diana Hoppe - Pool Pics by Hoppe