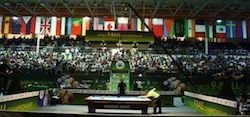 ALCANO BEATS ORCULLO 11-9; AKAGARIYAMA DOWNS GRAY 11-10 IN SEMIS IN DOHA, QATAR

Story and Photo by Ted Lerner

(Doha, Qatar) --It's an all Asian final in Doha, Qatar as the Philippines Ronnie Alcano and Japan's Yukio Akagariyama will face off for the 2011 World 9-ball Championship.

The race to 13, alternate break match will begin at 7pm local time in Doha (GMT + 3 hours).

Earlier in front of a capacity crowd of over 1500 people at the Al Sadd Sports Club, Alcano defeated fellow Filipino Dennis Orcullo 11-9. Akagariyama barely got by England's Mark Gray in a nail biter, 11-10.

Playing on the TV table, Alcano jumped out to a 2-0 and stayed in front the entire match. He consistently made balls on the break and left himself shots. Orcullo, on the other hand couldn't seem to find the same magic that he showed yesterday when he played Daryl Peach in the quarterfinals, and regularly found himself having to play safe after the break shot.

Displaying deadly accuracy, Alcano pushed the scoreline up to 8-4. After he moved to the hill at 10-6, Orcullo had one last fight back and closed the match to 10-9.

Nothing was certain in the next rack as the two engaged in a safety battle. Orcullo left an opening for Alcano, who took advantage and cleared for the win.

Alcano seems to have found that smooth, deadly rhythm that he used back in 2006 to win the World 9-ball Championship in Manila. His hot streak continued then when he won the World 8-ball title a few months later in Fujairah, UAE.

Since then, Alcano has struggled to find his game. He finally kicked things into gear earlier this month in Shanghai when he reached the quarterfinals of the China Open.

Alcano also said that he recently became a free agent, meaning he no longer has a manager back in Manila. He revealed that he is now being backed with financial support by none other than boxing great Manny Pacquiao, who helps Alcano with travel expenses.

"Manny is very good," Alcano said after his win over Orcullo. "All I need is just a little bit of Manny's good fortune and I can win the World Championship. I just have to win one more match."

The other semi-final was a much closer match. Early on Gray just couldn't seem to get any rolls off the break, while Akagariyma did and continued his low key but effective approach to the game and moved up by a 6-2 score line.

At 8-3 it looked like it would just be the Japanese' day but then the Englishman kicked his game into gear. Gray got a few racks back and then the heat started affecting Akagariyama. The match was tied at 8 when Gray had a clear run out but found bad position on the 8-ball. He potted it but then had to bank the 9 and missed it.

"That was the turning point right there," Gray said afterward. "If I get that 9, I'm up 9-8 and I can win it."

Gray wasn't done yet, though. He was down 10-8 and then came back to tie. Then, breaking for the win and a spot in the finals, the unthinkable happened. He scratched on the break, but only by a half of a millimeter of a roll on the cue. Akagariyama had an open table and calmly picked off the colors for the biggest win of his career.

The 36 year old Japanese has recently seen his stock rising on the world stage. At the World 10-ball championship in May in Manila he reached the semifinals. He reached the quarterfinals in Shanghai earlier this month at the China Open.

The winner of the World 9-ball Championship receives $36,000 while the runner up receives. $18,000.

The WPA will be providing complete coverage of the finals from inside the Al Sadd Sports club in Doha, Qatar. Fans around the world can follow match as it happens via our live scoring platform. The live scoring button can be seen on the front page of the WPA's new and improved website, www.wpa-pool.com . There you can also see the brackets icon which will give you updated standings from each group and the knockout stage.

Fans can also get instant updates, insights and scores by following the WPA on Twitter. Our Twitter user name is @poolwpa. You can go directly to our Twitter page at, http://twitter.com/poolwpa.