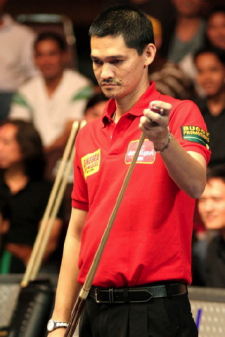 Ronnie Alcano
Former double world champion Ronnie Alcano leaves for the United States today to compete in the 33rd Annual U.S. Open 9-Ball Championship that starts Sunday at the Chesapeake Conference Center in Chesapeake, Virginia.

Alcano, a stalwart of the star-studded Bugsy Promotions of businessman Perry Mariano, will lead a lean Filipino squad in vying in one of the toughest pool tournament in world.

He will be joined by former world no.1 Francisco "Django" Bustamante, Ramil Gallego, Lee Van Corteza, Warren Kiamco, Rodolfo Luat, Jose "Amang" Parica and Joven Alba in mixing up with the field of close to 300 players from all over the world for the guaranteed total prize of $250,000, including the champion purse of $40,000.

The other top Filipino cue artists did not join in the event for various reasons. Efren "Bata"Reyes is undergoing medical checkup, while current world no.1 Dennis Orcollo and former world champion Alex Pagulayan are set to compete in the Grand Finals of the Guinness 9-Ball Tour in Jakarta, Indonesia, which is slated on October 24.

Alcano, who was a runner-up to American Shane Van Boening last year, is hoping to become the third Filipino to win the prestigious event after Reyes (1994) and Pagulayan (2005).

"I'll do my best to go all the way this time." said Alcano, who is searching for his first major title since winning the 2007 World 8-Ball Championship.

Meanwhile, the Quezon City Council has passed a resolution commending Orcollo for his recent string of triumph in the international and local arena.

Led by Majority Floor Leader Ariel Inton, the councilors, with the concurrence of Mayor Sonny Belmonte and Vice-Mayor Herbert Bautista, cited the 29-year-old Orcollo for his title conquest in the 2008 Quezon City 9-Ball Champion, the All-Japan Open, the Qatar International 9-Ball Open, the Guinness 9-Ball Tour leg in Guangzhou, China, and just recently, his and Bustamante's third-place finish in the PartyPoker.net World Cup of Pool.

"Orcollo's string of triumphs only proved that the Philippines is still considered as the powerhouse when it comes to billiards because of the achievement of the Filipinos in different prestigious billiards competitions here and abroad," the resolution states.

"Whereas, he is one of the Outstanding Citizens of Quezon City and a true Quezon City pride, is worthy of emulation and an inspiration for the Quezon City aspiring athletes who will join in all international competition."

The resolution will be presented to Orcollo today during the SCOOP Forum at Kamayan Restaurant in Ermita, Manila.