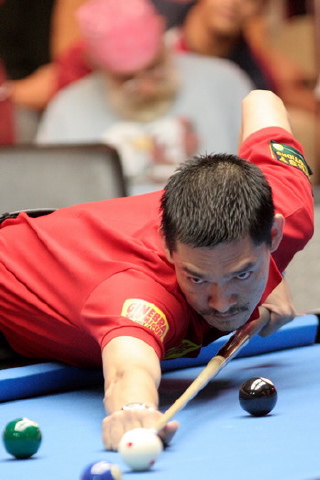 Ronnie Alcano
Ronnie Alcano, after a six-match trip through a field of 91 entrants in the Galveston Classic's Open 8-Ball event, defeated Johnny "The Scorpion" Archer on Sunday night, September 20, to finish the event undefeated and take home the first place prize.

Along the way, Alcano had chalked up victories over Shane Van Boening, Alex Pagalayun and Rodney Morris to get into the event's final eight bracket. From there, he sent Larry Nevel west in a hill-hill battle, before meeting Roberto Gomez in the hot seat match and sending him to the semifinals 9-7.

Archer, in the meantime, had to work from the one-loss side. He'd gotten a bye in the opening round, and moved past Jonathan "Hennessee from Tennessee" Pinegar and Scott Frost before running into Jose Parica, who sent him west 9-4. Archer then began a series of impressive wins over Efren Reyes 9-6, Charlie Bryant 9-3 and Corey Deuel 9-3 to get right back into the thick of things among the event's final eight. From there, he put Dennis Orcollo into the tie for seventh place 9-2, Nevel into the tie for fifth 9-4 and defeated Nick Varner in the quarterfinals 9-1. A 9-2 win over Gomez put him into the finals against Alcano.

It shaped up early as a tough match, with the two trading racks to a 4-4 tie. Alcano took the next four, which included a 'critical juncture' 10th game, in which Archer tapped a hanging 7-ball that failed to drop and then missed a 'kick shot' that gave Alcano ball in hand. Instead of 6-5, it was 7-4 and Alcano capitalized, reaching the hill on the next game. Archer came back to win the 13th game, though its bad-luck connotations came right back to haunt him. A bad-luck roll on the break put the cue ball in a pocket and Alcano took ball in hand and ran it out for the win.