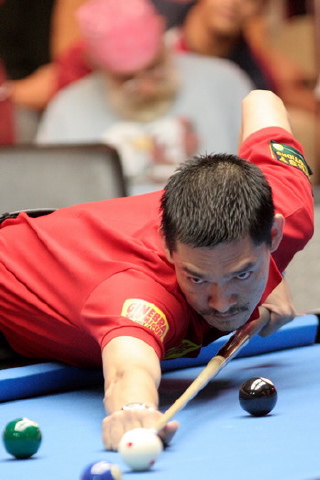 Ronnie Alcano
Saturday morning found Johnny Archer and Warren Kiamco contesting the desperation match. One would be forced out in fourth place while the other would face the loser of the winner's side match between Ronnie Alcano and Mika Immonen. This was a match that Warren had been building to all week with calm, precise play and he began with a storm of game wins, putting Archer deep into a hole at 5 games to 1 in their race to 11.
Meanwhile, his countryman
Ronnie Alcano
was slowly building a lead over Immonen. The crowd began to believe this would be Ronnie's day when Alcano upped his lead to 6-3. Like Kiamco, Alcano had been modestly plowing over opponents without fanfare all week long. Perhaps his most startling weapon is that he never looks tense or upset at the table. Much like Reyes, he only responds to any glitches in his game with a slight smile and a determination to not repeat the error. He never shows any outsized ego, never causes problems, just goes about his work and manages tables as well as anyone in the world. That, combined with his uncanny shot-making, makes him a favorite anytime he enters a tournament room.
Immonen was less stoic. He made some errors early on that seemed to rattle him. He jumped a cue ball off of the table on a table-length jump shot, the type of long jump that only rarely results in a cue ball on the floor. This seemed to haunt him, as the look on his face when he returned to his chair seemed to say that he felt the pool gods were conspiring against him. This arena is full of unpleasant ghosts for Immonen. It is the same spot where
Corey Deuel
ran over him 11-0 to win the 2001 US Open. One can only imagine that Immonen wants very badly to show, if only to himself, that he can win the big one here. Most fans know that he is more than capable of defeating anyone in the world, but Chesapeake has proven an albatross to his fortunes.
By the time the scoreline moved to 8-3, Alcano began to look so relaxed that one would never have known by his demeanor that he was in a big match. He moved calmly from ball to ball with a shooting arm that was loose and deadly. The cue ball fulfilled his every wish. Everything went his way until he jawed an 8 ball in rack number 12. This was the opportunity that Immonen needed to get his momentum going again. Immonen finished that rack off to bring the score to 8-4, but he was still uneasy with his position. Immonen also took the next rack, but Alcano grabbed the following one and the margin remained the same with the score at 9-5.
At the same time, Warren Kiamco was completely controlling the table with Johnny Archer and had built his lead to 7-1. Archer is not one to get excited. He has come from behind many times in his career but things certainly appeared dark for him at the moment. The darkness lifted briefly when he took the next 9 ball and moved the score to 7-2. This was but a brief joy as Kiamco took the next two racks to dominate the legendary Archer 9-2.
Alcano and Kiamco got to the hill at virtually the same moment. Alcano led Immonen 10-6 while Kiamco led Archer 10-3. Both men looked perfect. Alcano, in particular, was giving an exhibition in spinning the cue ball to exact points on the table. His stroke is unbelievable. It is completely fluid with no hitches and he accelerates all the way through the cue ball, never hesitating or wavering in any way. He broke and ran the final rack to sit in the hot-seat with an 11-6 win over Immonen. He certainly deserved to be there.
On the other table Kiamco was winding down his match with Archer. He cruised through the last rack to win 11-4 and move on the semi-finals against Immonen.