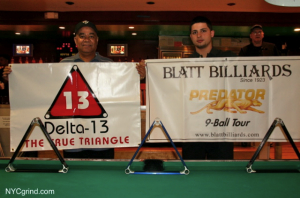 Jose Cruz and John Alicea
John Alicea withstood a strong, one-loss side challenge by Jose Cruz to go undefeated in the Predator 9-Ball Tour stop on May 30-31. Originally scheduled at Gallery Billiards in Allentown, PA, the $1000-added event was shifted to Master Billiards in Queens, NY and drew a full field of 60 entrants.

From among the winners' side final four, Alicea got by Ed Hugh 7-4 to meet Jay Chiu in the hot seat match. Chiu had sent Ron Mason west by the same score. Alicea and Chiu battled to hill-hill, before Alicea prevailed, gaining the hot seat and waiting for Cruz to work his way back to the finals.

Working from the first of the money rounds on the one-loss side, Cruz moved past Alberto Estevez 7-4 and Arturo Reyes 7-3 to pick up Mason. Mike Yednak, in the meantime, downed Danny Cintron 7-5 and John Chong 7-4 for the right to meet Hugh. It was Yednak, with a 7-4 win over Hugh, and Cruz, with a commanding 7-2 win over Mason, who advanced to the quarterfinals. Cruz gave up as many racks in his match versus Yednak as he'd given up in the two previous matches, but a 7-5 win in the quarterfinals, advanced him into the semifinals against Chiu.

Cruz took command in those semifinals, defeating Chiu 7-1 and heading into the finals with a full head of steam. He took advantage of his semifinal momentum to get out in front of Alicea early and was ahead by four racks when he reached the hill. Alicea, though, was not to be denied and immediately settled into an event-winning run of five racks that completed his undefeated weekend.