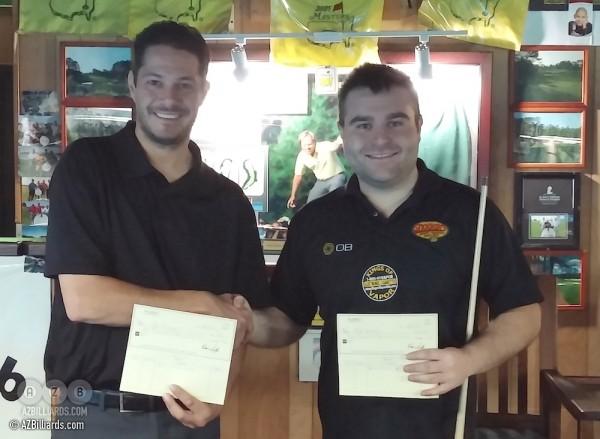 Joey Dupuis and Mike Dechaine
The American Billiard Club has just held it's fourth National Championship and
Mike Dechaine
is our first repeat Champion. Mike sponsored by Snookers Providence RI and OB Cues earned another $3,000 paycheck at Q Masters the Saturday Sunday prior to the US Open's Monday start. Mike dominated throughout the weekend and Sunday's finals were no exception. Mike got the jump on
Joe Dupuis
with a 55-5 lead, held that lead and finished strong defending his title by the score of 140-54!
Joe Dupuis playing out of Stix & Stones Abbington MA who had won last year's inaugural American Rotation title in VA earned an extra $2,000 while competing in his 3rd US Open; his second via the American Billiard Club qualifying system. Through his impressive play over the past year with the American Billiard Club Joe was able to obtain his first cue sponsor and what good way to start with none other than Steve Lomax Custom Cues. Steve has got to know Joe while watching him compete in a couple of American Rotation finals and some streamed events where Joe was tearing it up. For those of you that don't know Steve Lomax, he is a good player himself and really enjoys the fast and loose natural style player, we're pretty sure Joe fits that model and we're hoping the two enjoy a nice long term relationship.
Scott Johnson
and his wife Amy also made the trip from Gate City Billiards NC yet again. Scott is the only player to have qualified for all four national championships and it's always a pleasure to have him and Amy at the finals. Scott struggled a bit on Saturday and for just the second time Scott did not make the final four semis. We believe the players at Gate City are now putting a bounty on Scott's head for Series 5!
One of the final 4 contestants on Sunday was
Aaron Remijio
who qualified via Hard Times Bell Flower CA which is one of the more historic rooms in the country. Aaron is definitely Series 4 poster person as he is; a college student, working man, hard practicing, aspiring pool player who was attending his very first US Open. To make this event even more special was not only did the ABC help this young man get to his first US Open with the $1,400 he earned but Aaron made this special trip with his Mom and his girlfriend Geraldine! This is what we're talking about, this is a taste of what we want for our future players, play, compete and qualify locally and we'll make it financially sensible for you to compete nationally.
Completing our final four on Sunday and playing out of Amazin Billiards Malden Ma was Suad Kantarevic. Suad tied for 3rd 4th but may also be tied for poster person with Aaron for this event as I witnessed a true pool vacation for this 50+ hour working/family man. Suad started his pool vacation early Thursday with at least a 12 hr day in the backroom of Q Masters. Friday saw a 14hr day and Saturday he played six 100 point games of rotation over 9hrs, followed that by another late night in the back room mixing it up with some of the best players in the world! These 3 days may have taken a toll on Suad as Sunday's performance definitely did not match Saturday's strong performance. Being eliminated on Sunday was only a bump in the road as neither the backroom at Q Masters or Mondays first round draw of
Earl Strickland
were very far away for Suad.
All in all the Series 4 finals was a blast for everyone and it was also a nice table setter for the week's main attraction of the 39th U.S. Open. The American Billiard Club wishes to thank Barry Behrman and his right hand girl Roberta for allowing us to hold our fourth national championship at such a historic venue. We would also like to thank the entire staff of Q Masters for making us feel so welcomed. Most of the staff was working 12hr shifts but none of them were without smiles and top notch service! We hope to qualify 32 players for next years American Rotation Championship at the US Open!
To help our sport, our industry, current and future players get your local club on board with the ABC Qualifying Series simply by uniting 10 local pool lovers, at 50 united clubs we'll have a real product.
Visitwww.AmericanBilliardClub.com
www.facebook.com/AmericanBilliardClubLeague or
contact
Joe Tucker
directly at JTtenball@gmail.com.
This is a simple but strong step for our entire industry.