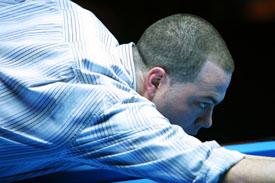 Scott Frost
Preacher Ronn's World Class One Pocket Tournament for July was held this past Saturday at Kolby's Corner Pocket in Tempe Arizona. Players came from all over to show up and compete against some of the State's and even some of the World's best One Pocket players. The 16 player field was a who's who for Arizona including Drew Maestas, the son of a pool playing legend, who made his way here all the way from Albuquerque, NM.

Sixteen players competed for the $580 prize fund. In this unique handicap format you could find yourself matched up against a player of any skill level. You might be giving up the world and struggling to stay alive or getting the world thinking you have it made only to find yourself fooled and out of the cash. This month's first round match-ups included: Mike Howard trying for his first win pitted against Mike Dickinson who took 3rd, Billy Dossett playing Drew Maestas from NM, Lenny Marshall in rare form snapping off "Preacher" Ronn (good job Lenny), Bobby Emmons trying to whip on Brett Huth but not getting the job done, Gus Briseno beating up on Trevor Long while the Patriarch Roger Long was in his own battle against the "Pancake" Mike Pankoff who took 2nd, sorry Roger, better luck next time, Jeff Gray flew in for a quickie against an easy opponent 2005 US Open One Pocket Champion Scott "The Freezer" Frost who took 1st and finally Bernie Pettipiece giving lessons to Bronson Winter.

For an afternoon of fun and pool 3rd place paid $80, while 2nd paid $180 and 1st brought in a cool $320. Somebody come on down and beat this Scott Frost guy. There's lots of room and good food. A special thanks to Jimmy and Kolby's for hosting this event each and every month. We really appreciate you Jimmy. Thanks also go out to Jimmy Sears who gave up playing to run the tournament for everyone. Thanks Jimmy. Hey are all you guys at Kolby's named Jimmy. Oh, here's a new name… thanks Lenny and OnTheRailTV.com for the live stream.

See you all next month Aug 29th.