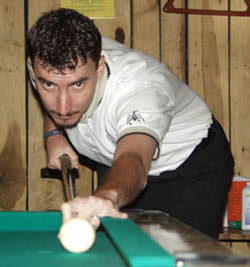 Johnny Archer
Defending champion Johnny Archer came back from the brink of elimination to defeat #4 ranked Danny Harriman on the one-loss and stay alive at the 2003 Capital City Classic on Friday.
Archer trailed 9-6, before winning the final four games to pull out the 10-9 win.
Jose Parica did not have as good a match as he fell behind 5-0 and lost 10-4 to Pooky Rasmeloungon on the one-loss side to finish out of the money. Other players eliminated on Friday included Allen Hopkins, Keith McCready and Max Eberle.
Top players still unbeaten going into Saturday matches are Corey Deuel, Tony Robles, Luc Salvas, Jose Garcia, John Schmidt, Ronnie Wiseman, Nick Varner and Fabio Petroni. Petroni got a well earned 10-8 victory over Jimmy Fusco on Friday.
Brackets are posted and will be updated all weekend.
Photo courtesy of Diana Hoppe - Pool Pics by Hoppe