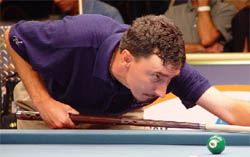 Archer was on the wrong side of a hill-hill match
If local favorite Johnny Archer is going to win the Predator Atlanta 9 Ball Open being held at The Pool Room in Marietta Georgia, he will have to do it from the one-loss side. Archer was one of the winners side hill-hill upsets in round two on Thursday night, along with US Open Champion Jeremy Jones and The Korean Dragon Charlie Williams.
Archer lost to Go Takami, one of the top Japanese players. The match went back and forth with neither player able to move out into any sort of lead. It still looked like Archer would win it as he ran down to a 7-9 combination in the last rack, but the 9-ball did not find the pocket on Archer's shot and Takami ran out the final 3 balls for the win.
Williams fell to Gabe Owen after holding a comfortable 9-5 lead. Owen, a well known action player, came back to score the 11-10 victory.
Nick Varner almost became the fourth player to be handed a hill-hill upset on Thursday when local player Paul Song had a shot at the 9-ball in the case game but missed the shot to allow Varner to win the match.
Brackets are online and updated with all of the matches from Thurdsay.
Photo courtesy of Mark Whiteside