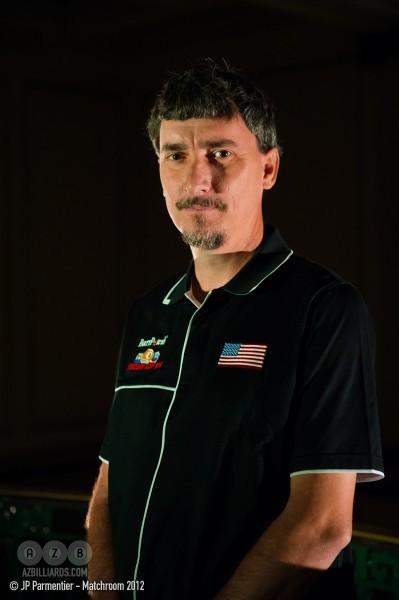 Johnny Archer
AMERICAN pool legend Johnny Archer will be making a record-breaking 17th consecutive PartyPoker.net Mosconi Cup appearance when the 20th anniversary event takes place in Las Vegas in December – with the added pressure of captaining the American side.

The 44 year-old from Georgia, who went undefeated at last year's event, winning five out of five matches, has a huge job ahead of him as he attempts to lead the US to victory for the first time in four years.

"I am so excited and I feel like I'm playing better now than I ever have in my career," said a delighted Archer.

"It is very important for the US to win this time because we haven't won since 2009 and we need to establish ourselves again as the dominant team, just like back in the 90's."

Archer has been on the winning side on nine occasions and sports a playing record of 44 wins from 79 matches, one win behind Ralf Souquet's all-time record of 45.

With the European crowds having played such a big part in previous years, Archer is determined that the American fans will play a similar role at the Mirage.

"Hopefully, the American crowd will be our sixth man because they can put a lot of pressure on the European team, the way they do to us every time we're in Europe. I have many plans and we are going to be doing some things a whole lot different than in previous years," he added.

The PartyPoker.net Mosconi Cup takes place at the Mirage Hotel and Casino, Las Vegas from Monday 2nd to Thursday 5th December and features two five-man teams representing the USA and Europe.

The Europeans are the defending champions, having won 11-9 in London last December, their fifth win in six years.

Due to the added workload of being a playing captain, Archer has opted to include American pool legend Buddy Hall as his assistant captain. The Rifleman has never competed in the Mosconi Cup but the Hall of Famer has had a glittering career at the top level and will know the American team as well as anyone.

"It is an honour and a privilege to be chosen to be a part of such a wonderful event and I am so excited to be Vice Captain of the USA team. We will do whatever it takes to bring the Mosconi Cup back to USA where it belongs," said Hall.

"It will be my pleasure to team up with Johnny Archer to take back what is ours and that is the Mosconi Cup. I know we are going to have a lot of fun but we are there to do just one thing and that is to win!" concluded Hall.

Archer added, "Buddy Hall is the greatest player that I have ever played. I still get really nervous even today when I am around him. He is my hero but as great a player that he is, he is a much better person.

"It is an honour for me to call him my friend and he will bring knowledge, experience, laughter, and confidence to the USA team which is what we really need this year."

Tickets are available from www.ticketmaster.com (Search 'Mosconi Cup') or directly from the Mirage on (+1) 702 792 7777 or 1-800-963-9634.


*This is the second of 11 announcements naming the two 2013 PartyPoker.net Mosconi Cup teams.

The 2013 Mosconi Cup is delighted to work with our valued suppliers –Iwan Simonis: Official Cloth; Aramith: Official Balls and Predator: Official Cue.