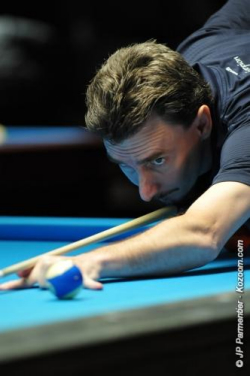 Johnny Archer
Johnny Archer has taken his sixth Turning Stone title and pocketed the $8,000 first prize by defeating Rodney Morris 13-8 in the final match. Oddly, Morris also finished second to Archer in the last Turning Stone event in December of 2009 and Dennis Hatch also took third in both events. Mika Immonen claimed the fourth slot. With his win, Archer also solidly cemented his number one spot in the BCA rankings. Archer, who is not happy with his own game at the moment, told us after the win: "I gotta be honest with you, I don't know how I won this thing." Well, to us it appeared that he won it with fantastic shotmaking and unbelievable cue ball position and speed control. He never tasted a single loss the entire week and he defeated most of his opponents by handsome margins. If this was Archer on an off week, the rest of the pro pool world is in real trouble when he gets his game back.

Notable moments of the week included the match between Shane Van Boening and Mika Immonen where Van Boening took control of the match early and romped off to a 5-1 lead over world number-one ranked Immonen. Van Boening had total control of the table and appeared to be headed to a big win when Immonen began his comeback and completely turned the tables on Van Boening to win the match 9-5, never letting Van Boening have another rack win or even any air with which to regain the momentum. Another feat of note was the entire performance of Liz Ford who defeated man after man to finish in a tie for thirteenth. Ford now carries a valid argument with anyone who says that the women cannot hang with the men on the pro level.

On the final day, Rodney Morris and Dennis Hatch put on two crowd-pleasing matches with Morris coming out on top in both matches. The second match took less than 45 minutes as the two big hearts slugged it out in front of the Accu-Stats cameras. A highlight for all of the fans who could not be at the event in person was that Pat Fleming brought the Accu-Stats camera equipment to Turning Stone and put on a flawless free stream that was enjoyed by the largest audience that we at AZBilliards have ever enjoyed. Over 9,000 unique visitors per day were able to watch a stream that never chopped up or froze except when the casino lost all power for an hour on Friday. Our heartfelt thanks go out to the entire Accu-Stats crew for their efforts, to "Upstate" Al Leon for his tireless commentating and to Fran Crimi for bringing her analytical expertise into the commentary booth. We are also very grateful that Simonis Cloth, the TAP league system and Lucasi Hybrid cues provided the financial backing required to produce such a stream.

This was the fifteenth edition of the Turning Stone Classic produced by Mike Zuglan. It is held in the grand auditorium of the beautiful Turning Stone Resort and Casino and is unique in that spectator admission is free. This is a fabulous venue filled with a plethora of fine restaurants and entertainment options. For anyone in the northeastern United States the Turning Stone event is an excellent choice as a consideration for your pool-related vacation.