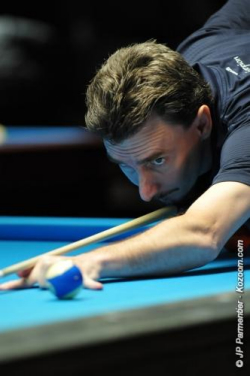 Johnny Archer
To no one's surprise, after winning the last three BCA Points Events, Johnny Archer has taken the #1 position on the BCA Points List.

Prior to the Steve Mizerak Championship, US 10-Ball Invitational and Turning Stone Classic XIV, Archer was #6 on the list with less than half the points of #1 ranked Ralf Souquet. Winning back to back to back points events will allow a player to catch up pretty quick though.

Other players climbing up the ranks included Corey Deuel (#4 to #3), Rodney Morris (#11 to #4), John Schmidt (#15 to #7), Kim Davenport (#13 to #12), Mike Davis (#18 to #16), Mike Dechaine (#35 to #17), Donny Mills (#25 to #18), Jeremy Sossei (#21 to #19) and Rafael Martinez (#52 to #20).

Former #1 Ralf Souquet dropped to #2 and former US #1 Oscar Dominguez dropped to #6 (#5 US Player).