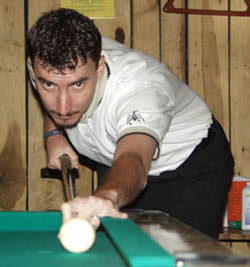 Johnny Archer
Johnny Archer avenged a 10-9 loss to Rodney Morris in the match for the hot-seat and defeated Morris 10-9 in the finals to win the Brunswick Pro Players Championship during the Super Billiards Expo in Valley Forge, PA.
Archer almost didn't get the chance to shoot in the final rack as Morris brought the house down with an amazing shot on the 2-ball. After Morris' break in the final game, he was left with a 2-ball near the center of the table and the cue ball mere inches off the center of the short rail. Morris lined up the shot and then thought better of it and laid his cue down to take a break. Morris returned from the break, jacked up his cue and speared the ball in the corner pocket. The crowd went wild as it looked like an open table for Morris. Everything changed on the next shot however, as Morris watched a long rail shot on the 4-ball roll out on him to allow Archer back to the table during the case game. Archer took advantage of that chance and went on to win the game.
Archer collected $10,000 for first place while Morris settled for $5,000 in second place money. Jose Parica and Jose Garcia filled out the top four spots.
Earlier on Sunday, Karen Corr completed an undefeated run through the Women's Pro Players Championship with a 6-3 6-3 victory over Helena Thornfeldt in the finals. The win was worth $5000 for Corr and Thornfeldt pocketed $3000 for second.
Photo courtesy of Diana Hoppe - Pool Pics By Hoppe