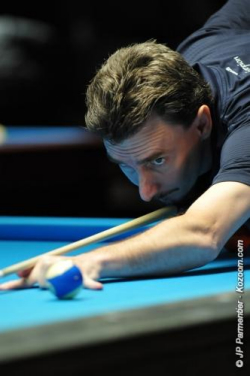 Johnny Archer
As the tournament made it's way into day two, Hohmann and Archer set themselves as the players to beat and faced off for the hot-seat. Hohmann had notable wins over Schmidt and
Ralph Eckert
on his way to the hot-seat match, while Archer had to get by such sharpshooters as Corey Deuel and Stevie Moore.
The hot-seat would go to Hohmann by the narrowest of margins in an 8-7 match.
On the one loss side, Archer faced off against John Schmidt. After Schmidt's Saturday loss to Hohmann, he had made it through a rogue's gallery of players on the one loss side including Mike Davis, Putnam, Eckert and Tommy Kennedy. Schmidt would run out of gas against Archer in the semi-finals though. Archer had an early 4-1 lead and never looked back on his way to an 8-2 victory.
The final race to nine saw Hohmann draw first blood at 1-0, but that would be his last lead as Archer quickly won three games for a 3-1 lead. Hohmann got within one game at 4-3 and 5-4, but Archer took control and won the next four games for the 9-4 win and first place.
Archer collected $3000 for first place, while Hohmann settled for $1700.