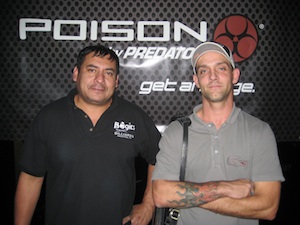 David Gutierrez and James Baraks
On October 29th-30th the Lone Star Tour drew 65 players with 97 entries in 5 divisions at Bogies Billiards and Sports Bar in Houston, Texas who hosted the Tour's 11th stop of 2011. The Open 9-Ball division drew 34 players which included
James Baraks
,
David Gutierrez
, Manny Chau,
Mike Gulyassy
,
Ernesto Bayaua
, and
Jason Brown
. The 39 player Amateur 9-ball division included
Brent Thomas
,
Grady Cooper
, J.C. Torres, Mikey Frost,
Bill Fuller
, and Michael Branton.
The Open division concluded Saturday evening with 4 winners and 4 one-loss side players for Sunday's action. During the last winners' side round of the evening, David Gutierrez defeated Mikey Frost 9-2,
Sonny B
osshamer defeated Mike Gulyassy 9-7, Jason Brown squeezed by Ernesto Bayaua 9-8, and James Baraks bested Grady Cooper 9-4. On the one-loss side, Bayaua, Cooper, Frost, and
Brian Rosenbaum
lost their bid for the final 8. Sunday's final four one-loss side produced Manny Chau who had suffered an earlier blow from Gutierrez,
Jason Pearce
, Bill Fuller, and Gulyassy. The final four "undefeated" saw Baraks oust Brown 9-2 and Bosshamer fall to Gutierrez 9-5. The west side's final four saw Fuller fall to Gulyassy 7-4, and Chau defeat Jason Pearce 7-5. Meanwhile, it was Baraks over Brown 9-2 and Gutierrez over Bosshamer 9-5 that pitted Baraks v. Gutierrez for the hot seat. It was a hill-hill thriller until Baraks secured the final game 9-8. Headed for a comeback after a third round loss to Gutierrez, Chau won 6 consecutive matches with wins over Cooper, Pearce, Bosshamer, and Brown, but fell prey once again to Gutierrez, 7-1. In the final match, it was all out war. Gutierrez was determined to redeem himself while the all too unshakable Baraks was steady as a rock. The first set went to Guiterrez 9-6 and the players took a break. In overtime, both players stayed their course. At 4-3 in Baraks favor, he fell out of line on the 7 but completed the out and won the next game making it 6-3. Gutierrez answered back strong with 2 in a row which included a break and a run. At 6-5, Gutierrez broke and the cue ball was kissed into the corner pocket. Baraks ran out ending the set, 7-5. Thanks to their impeccable play and showmanship, these two players wowed the Bogies' crowd with the most exciting event final to date!
The Amateur division drew 39 entries and ended late Saturday night. On the winners' side final 8 it was
Carl Miranda
over J.C. Torres,
Joey Torres
defeated Bill Fuller, Jason Pearce ousted
Will Felder
, and Curt Bovenzi fell to
Sonny Bosshamer
. Miranda went on to defeat Joey Torres 4-2 and Bosshamer scrapped Pearce by the same. Bosshamer squeezed by Miranda for the hot seat 4-3. On the one-loss side,
Chuck Adams
bested Felder 4-3,
Pablo Hernandez
eliminated Boveni 4-1, Brian Rosenbaum defeated J.C. Torres 4-1, and Grady Cooper fell to Fuller 4-1. Hernandez won 6 consecutive matches on the top side after losing his first match to Junior player Ron Esman. After his first round loss to Kerry "The Panther" Ganther, Rosenbaum won 8 consecutive matches on the bottom side to meet Hernandez in the quarter final. Rosenbaum defeated Hernandez and Miranda, making it 10 consecutive wins until an undefeated Bosshamer blew the wind out of his sail in the final, 4-0. Congratulations to Sonny Bosshamer on his first Lone Star Tour title and for winning the VX cue and VX jump cue raffles!
In the One Pocket division,
Sylver Ochoa
defeated David Gutierrez for the hot seat match while Jason Brown bested Ernesto Bayaua, leaving him in 4th. Brown defeated Gutierrez 2-1 but fell in the final to Ochoa, 3-1.
Junior player Nick Calderaro captured his first LSBT Junior 9-ball event this past weekend while Ron Esman finished a respectable 2nd, and Kody Thompson 3rd, his highest finish to date.
Congratulations to all the winners and many thanks to the Official Tour Sponsors: Poison by Predator Cues, Delta-13 Rack, PoolWebsites.com, APA of North Harris County, and Gulf Coast Billiards. Special Thanks to room owners David and Shannon Richardson for hosting the Lone Star Tour and supporting Texas' pool.
On December 10th-11th there will be $2,000 added to the Lone Star Tour Championships 2011 at Bogies Billiards & Sports Bar, hosting 5 divisions over 2 days. Please note, the AMATEUR DIVISION WILL BE 2 DAYS AT THIS EVENT AND THE RACES WILL BE EXTENDED TO 7 & 5 and the Juniors will move to Sunday at 1pm. There will be a small awards ceremony for the tour point leaders on Sunday, pit barbecue, Poison cue raffles, and LIVE STREAMING all weekend long! Don't miss it!
Open
1st James Baraks $550/$750
2nd David Gutierrez $375/535
3rd Manny Chau $200/$435
4th Jason Brown $125/$250
5th Sonny Bosshamer $65
6th Mike Gulyassy $65
7th Bill Fuller $35
8th Jason Pearce $35
Amateur
1st Sonny Bosshamer $400/$400
2nd Brian Rosenbaum $325/$325
3rd Carl Miranda $200/$175
4th Pablo Hernandez $125/$100
5th Joey Torres $40/$30
6th Jason Pearce $40/$30
7th Chuck Adams $25
8th Bill Fuller $25
One Pocket
1st Sylver Ochoa $300/$240
2nd Jason Brown $150/$100
Ladies
1st Courtney Peters $90
2nd Terry Petrosino $60
Juniors
1st Nick Calderaro $60
2nd Ron Esman $30
3rd Kody Thompson $15