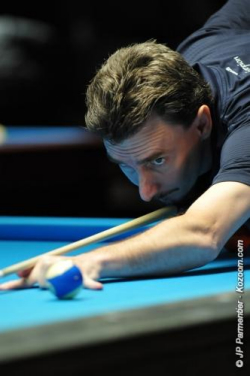 Johnny Archer has his work cut out for him after his round one loss.
Day one is complete at the Turning Stone Classic XIX, and the talk of the day on day one was Houston's Blaine Barcus who came back from a 6-1 deficit to defeat Johnny Archer on day one. Archer was actually on the hill at 8-3 before Barcus mounted his comeback in their winners side match. Barcus earned a match with Matt Krah on Friday, while Archer will begin the long trek through the one loss side with a Friday match against Fred Gokey.

The only other real upset on day one was Nelson Oliveira'a hill-hill win over
Robb Saez
. Oliveira led the match early at 6-4, but Saez took control midway through the match and won four games in a row for an 8-6 lead. Saez looked to be in the drivers seat when he got poor shape in rack fifteen. He was forced to kick at his object ball and that would be the last real chance Saez would have as Oliveira regained control and won the final three games.
We have complete coverage of the event with online brackets, real time scoring, streaming and our Action Challenge contest. Your hub for all things Turning Stone is at
www.azbilliards.com/turningstonexix
.