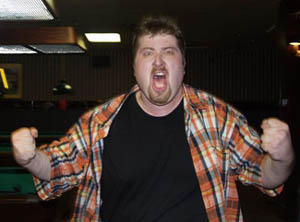 Danny 'Kid Delicious' Basavich
Danny Basavich has held on to win the Joss NE 9-Ball Tour Season Finale.
Basavich took the hot-seat with a hill-hill win over Rodney Morris on Sunday evening and made himself comfortable waiting for an opponent in the finals. After Earl Strickland disposed of Morris 9-3 on the one-loss side, the double elimination finals got underway. Basavich had already beaten Strickland once in this event and had beaten Earl in the last two matches they played dating back to last year's US Open. Strickland would have to beat Basavich twice to win the tournament.
The first race to nine saw Strickland race to a 6-2 lead, only to watch Basavich race back to tie the match at 7-7. The players split the next two games for 8-8 before Strickland won the case game to capture the first set. The second set was much closer with the players matching each other shot for shot. With an 8-7 lead, Strickland broke what he hoped would be the final rack but came up empty. Basavich pushed out and Strickland let him shoot again. Basavich kicked the one-ball safe to gain control of the table and won the game to knot the match at 8-8. Now it was Danny's turn to break what was definitely going to be the final rack. Basavich made a ball but had no shot on the 1-ball. Once again he pushed out. This time, possibly still smarting from the safety in the last rack, Earl took the shot and attempted a safety. Had the safety rolled one less inch, Basavich would have been in jail. The safety rolled too far though, and Basavich again gained control of the table and ran out the rack for the tournament win.
Basavich's purse of $7500 was increased by $2000 when Ralpg Leo of Holly Super Gas & Energy came in and was so impressed with the play at the event that he added $1000 to the first place prize and then went back and added a second $1000 later in the event. All told, the tournament was worth $9500 for Basavich while Strickland took home $5000 for second place. Morris and Tom D'Alfonso filled out the top four spots.
A good time was had by all at the tournament and also at the Larry Lisciotti memorial on Saturday. The crowd saw the presence of many of Larry's old friends and he was remembered by all. Danny Basavich dedicated this tournament win to Larry.
You can follow all of the results with our online brackets and check out images from the event with Diana Hoppe's Photo Gallery.
Complete Payouts:
1st Danny Basavich $9500
2nd Earl Strickland $5000
3rd Rodney Morris $3500
4th Tom D'Alfonso $2400
5th/6th Earl Herring, Shaun Wilkie $1650
7th/8th Ray McNamara, Danny Hewitt $1300
9th/12th Edgar Acaba, Jim Hayden, Teddy Garrahan, Luc Salvas $1000
13th/16th Tim Perry, Bill Dunsmore, Alex Pagulayan, Mike Davis $750
17th/24th Charlie Bryant, Chris Lynch, Frankie Hernandez, Joey Korsiak, Hongsavady Vongxay, Karen Corr, Keith McCready, Grady Mathews $500

Photo courtesy of Diana Hoppe - Pool Pics by Hoppe