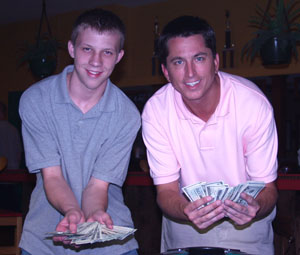 Justin Bergman and Stevie Moore
Justin Bergman may not have the years of experience that some of the other players had at the Super 9-Ball Tournament at High Pockets in Memphis TN, he more than made up for that in pure talent.
With the tournament drawing players from twelve states, it was Bergman who took the hot-seat in dramatic fashion with a hill-hill 9-ball break against Billy Young.
Young then lost to Stevie Moore on the one loss side to set up the final match between Moore and Bergman. It appeared as if the seventeen year old Bergman's run might be through, as Moore held a 6-3 lead in the race to 9 final set. Bergman had other ideas however, as he won the next six games to take the set 9-6.
Bergman earned $2400 in prize money and another $1720 in calcutta money for first place. Moore settled for $1320 in prize money and $1290 in calcutta money.
We have a photo gallery from Roberta Case online and will have more pics in the gallery later on Monday.
Complete Results (including Calcutta):
1st: Justin Bergman $4120
2nd: Steve Moore $2610
3rd: Billy Young $1760
4th: Charlie Bryant $1030
5/6th: Jui Lung Chen, Nick Hickerson $390
7/8th: Brian Butler, Nick Vita $300
9th/12th: Buddy Hall, Bruce Berrong, James Baraks, Jason Evans $150
Photo courtesy of Roberta Case