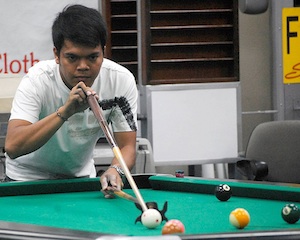 Carlo Biado (Photo courtesy of KC Cruz - Raya Sport)
Finally, rising star
Carlo Biado
has officially won a pool competition, even if it's only a share of the 2011 BSCP National Pool Championships.
One of the hottest Filipino players competing in big events, Biado nailed his first first place in the ongoing BSCP Nationals by taking the 8-Ball division title. He, beat Alan Cuartero, 9-3, in a one-sided finale on Sunday at the Star Billiards Center.
The 27-year-old Biado pounced on Cuartero's inconsistency in breaking the balls.
An Overseas Filipino Worker, Cuartero had a lot of dry breaks, enabling Biado to pull away.
In winning the 8-Ball crown, Biado pocketed the P50,000 top prize and boosted his bid for the grand championship which carries with it a top prize of P200,000.
He is on track to winning the overall title, because he has also secured a finals seat in the 9-Ball Division, where he faces world No.1 Dennis Orcullo. . Their 9-ball title match is slated at 1pm today, Monday Oct.10.
"Finally, I won a big one," said Biado after winning the 8-ball title. "I've been waiting for this for a long time. My drive of winning a major title got more intense after I lost my semifinal in the World Ten Ball Championship this year."
By taking one of the three championships at stake in this BSCP Nationala, Biado also secured a spot in the AKTV World Pool Summit slated to be held in Manila this November. The World Pool Summit is the last event in the World Pool-Billiard Association (WPA) calendar.
A dry break by Cuartero in the sixth rack allowed Biado to get back to the table and gallop ahead. the young player quaickly sank balls Nos. 1 to 8 for a 4-2 lead.
In the 7th rack, Biado sank the 7-ball and ran out the table for a 5-2 lead.
Cuartero completed a runout in the 8th rack, but that proved to be the last time he could score as he had dry breaks on his next two turns and a crucial miss on the No.5 in the 12th rack.
Biado, on the other hand, didn't waste o any opportunity and took advantage at every turn to complete a four-rack run – and the win.
"You need to have a runout in your breaks to beat your opponent in 8-hball.But it didn't happen. I had a lot of dry breaks. It was just unfortunate for me," said Cuartero, a house pro from Kuwait.
10-ball division:
Within hours of winning the 8-ball division, Biado encountered rough sailing at the start of the 10-ball division competition.
Johann, 19-year-old player who started playing while still inhis shorts, dealt Biado a shocker. He beat Biado convinvingly bythe score of 9-7.
Dennis Orcullo continued his confident march in the tournament by winning three of his 10-ball matches handily. He beat Eustacio Nicolas, 9-5; Rocky Tullao, 9-7; and
Joven Bustamante
, 9-2.
Two other strong contenders for the 10-ball deivision title are
Roberto Gomez
and Jerico Banares. Both won three matches each in yesterday's competition.