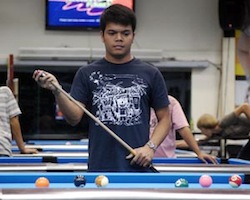 Carlo Biado photo by KC Cruz
For the second time in five months, up-and-coming star Carlo Biado has beaten world No.1 and World 8-Ball champion Dennis Orcullo, serving strong notice on his title aspiration in the 8-Ball event and grand championship of the 2011 BSCP National Pool Championships.

Biado defeated Orcullo, 8-5, on Wednesday night at the Star Billiards Center and advanced to the finals of this tournament that serves as a qualifying event for the World Pool Summit.000

A semifinalist in the World Ten Ball Championship and one of the few players who made a big jump in the world rankings, Biado will meet Allan Cuartero, who escaped with an 8-7 win over Ricky Zerna, in the other Semifinal.

Biado came to the semifinals oozing with confidence after sweeping Johann Chua, 8-0. The victory gave the young player more confidence in pulling off another stunning win against Orcullo, one of the few world champions he defeated in the WTBC last May.

A former caddie-turned-pool player, Biado attributed his victory to the breaks of the game.

"He was struggling breaking the balls. In fact, he had three dry breaks," said Biado.

In reaching the finals, payback will be on the mind of Biado, who lost a tough 8-7 decision to Cuartero wearlier in the 8-ball event.

"I like my chances against Cuartero, but it's not a guarantee of a win because he's a veteran player and I lost to him the last time around," added Biado.

Cuartero escaped Zerna, the same player who couldn't hit the big one during his game against Orcullo.

Zerna came close to reaching the semifinal round trouble free on Tuesday night by nearly shocking Orcullo only to lose in a hill-hill encounter, 8-7, after failing to capitalize on two breaks to clinch the match.

Against Cuartero, pressure caught up with Zerna once more as he missed the 8-ball in Rack 15, allowing his rival to escape with the win — and a seat in the finals.