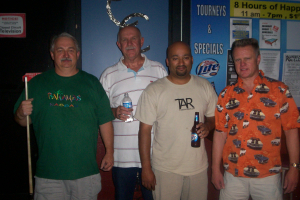 Bill Skinner, Joe Ross, Alex Kanapilly and John Sandifer
Event #2 of the "2nd Annual Big Box Summer Series" at the Colorado Cue Club brought 17 players to battle it out for the One Pocket title. The format was a race to three on the winner's side and race to two on the one loss side.

Cue Club regular John "Sgt John" Sandifer made quite a run through the winner's side defeating Bill Skinner on his way to meet Joe Ross of Colorado Springs. Joe would then pass through a grueling hill-hill match with John to claim the hot seat.

Over on the one loss side Alex Kanapilly got by the one hole wizard Dave Gross 2-1 to meet Skinner. Alex's run would end at fourth place though as he watched Bill Skinner win the set and move on to defeat Sgt John and double-dip Ross for the title.

One Pocket is a true test of many pool skills and we saw them on display this day. With the win Bill claimed the $375 top prize and elevated himself to second place in the "Miller All-Around" point standings behind the 10-Ball champion Santos Sambajon. The standings are bound to get more interesting with the upcoming $750 added 8-Ball on August 16 which we expect to be the largest field.

Once again the "Big Box Summer Series" is supported by Miller beer and we thank the Miller Girls for coming down.

For more info on the BBSS and the point standings check www.coloradocueclub.net

Final Standings

1st Bill Skinner $375 + 170 Points
2nd Joe Ross $250 + 85 Point
3rd John Sandifer $150 + 57 Points
4th Alex Kanapilly $75 + 43 Points

Rest of the field 10 points each.