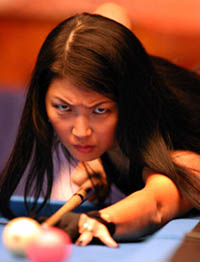 Jeanette 'The Black Widow' Lee
Jeanette Lee has been named the AzBilliards March Player Of The Month. Jeanette scored a 1st place finish at the Atlanta Women's Open and a 2nd place finish at the WPBA San Diego Classic, losing a total of two matches over both events. During those two events, Lee had a 3-1 record against #1 and #2 rated Allison Fisher and Karen Corr.
Cliff Joyner's undefeated run through the 8-Ball and 9-Ball divisions of the US Bar Box Championship earned him runner-up honors for the month of March.
January's Player of the Month, Efren Reyes, was voted as the fans choice for March.
Photo courtesy of Bill Powers