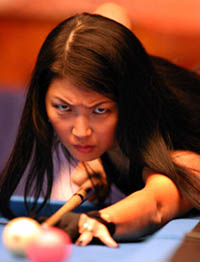 Jeanette Lee
The WPBA website is reporting that Jeanette 'The Black Widow' Lee has won the Cuetec Cues Florida Classic.
Lee didn't lose a match for the entire event and seemed to take her game to another level when the lights of the ESPN cameras went on. Lee started with a 9-4 win over Fran Crimi, followed by a 9-6 win over Angel Paglia. A close 9-7 win over Hsin Huang took Lee into the single elimination segment of the event where one loss would mean an early exit.
Lee's first match in this stage was a 9-5 win over Miyuki Sakai and that got Lee to the TV rounds of this unique event. While almost every other WPBA event only has TV coverage of the final three matches, this event had TV coverage of the final seven matches with eight ladies getting time on TV.
Lee turned her game up a notch in the first TV round and defeated Dawn Hopkins 7-1. As if that win was not dominating enough, Lee then defeated Allison Fisher 7-0. Fisher had just retaken the #1 spot on the WPBA points list by defeating Jeannie Seaver. Fisher trailed Karen Corr on the points list by a very small margin, but Fisher's 4rd place finish coupled with Corr's 5th place finish was all Fisher needed to move to the top of the list again.
In the finals, Lee defeated former World Champion Julie Kelly. Kelly had won the WPBA Cuetec Cues Canadian Classic back in October and was looking for her second win this season, but Lee proved to be too much for Kelly to handle on this day.
Lee earned $15,000 for first place, while Kelly was forced to settle for $9000. Fisher and Jennifer Barretta finished tied for third and pocketed $6000 each.
Photo courtesy of Bill Powers