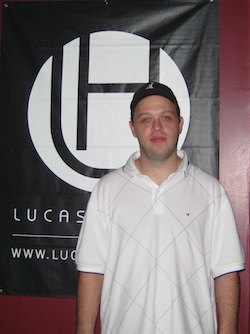 Jesse Bowman
The fourteenth stop on the 2010-2011 Lucasi Hybrid All American Tour (produced by the American CueSports Alliance – ACS) moved to Dubuque, Iowa, on Saturday, November 13, at Bulldog Billiards. The $500 added event featured thirty players in a double-elimination 8-ball format on 7-foot bar boxes.
Chad Behnke
(Farley, IA), rated a "5" on a regional handicap system used, took down the A-side that included a semi-finals win over
Mike Rohner
(Dubuque, IA) [4] 5-3 and a finals win over Christ Aiardo (Davenport, IA) 5-3. Aiardo had earlier vanquished Ron Pluym [5] (Dewitt, IA) 4-4 in the semifinals just prior to his loss to Behnke.
On the B-side
Bob McDonald
[5] (Dubuque, IA) and
Jesse Bowman
[7] (E. Moline, IL) eliminated
Joe Lindsay
[4] (Maquoketa, IA) 5-1 and
Ronnie Martin
[5] (Davenport, IA) 7-1 respectively at 7th place, In the next round both McDonald and Bowman won again by ousting Ron Pluym 5-4 and Mike Rohner 7-2 at 5th place. Bowman then eliminated Bob McDonald at 4th place – 7-2, and Bowman's run continued to the tourney finals when he whitewashed Christ Aiardo at 3rd place by a 7-0 margin. The tournament finals between once-defeated Jesse Bowman and undefeated Chad Behnke went two sets, and Bowman [7] skimmed by Behnke [5] 7-4 and 7-2 for the title!!
By virtue of Jesse Bowman being the highest-finishing ACS member in the event, he qualified for a free 9-Ball singles entry into the 2011 Lucasi Hybrid ACS Nationals at the Tropicana Las Vegas – courtesy of the ACS. The ACS wishes to thank sponsors Lucasi Hybrid Cues, Championship Billiard Fabric and
Nick Varner
Signature Cases for their support in donating "Value-In-Kind" product for this and all stops on the Lucasi Hybrid All American Tour. All entries in the Tour are also entered into a drawing in an end-of-Tour drawing for four (4) $400+ value Lucasi Hybrid Cues courtesy of Ozone Billiards. Sponsorship opportunities and tour stop openings are still available for the 2010/2011 All American Tour by contacting the ACS.
The Tour spreads out around the country on Thanksgiving weekend: 1). the $1,000 added "8-Ball Turkey Shoot" on Saturday-Sunday, November 27-28, at Match-Ups in Ft. Collins, CO (contact Mike or
Nicole Hellmer
at 970-482-2337); 2). $1,000 added Dakota Cue Clob 8-Ball Tourney on Saturday, November 27 in Sioux Falls, SD (contact
Adam Behnke
at 605-275-7665); and 3). $500 added 9-Ball Tourney on Saturday, November 27 at Side Pocket Billiards in Seminole, FL (contact Stacy Lantz at 857-222-0581). Further information, entry details and schedules for the 2010/2011 Lucasi Hybrid All American Tour are available at www.americancuesports.org.