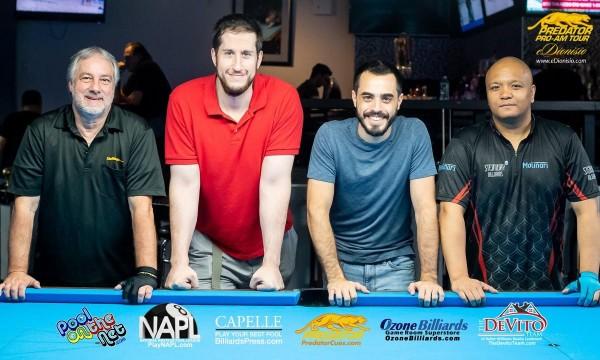 (l to r): Tony Ignomirello, Gary Bozigian, Matt Klein & Ryan Dayrit
He came in search of his first 2019 event victory and found it.
Gary Bozigian
, making only his fourth appearance on the 2019 Predator Pro Am Tour, went undefeated in the Amateur division of the Eastern States Championships over Labor Day weekend (August 31-Sept. 2). With limited points in the tour standings as a B player (#24 on the list), Bozigian defeated the tour's top-ranked B+ player,
Matt Klein
, twice to claim the title. The $1,500-added Amateur event drew 83 entrants to Steinway Billiards in Astoria (Queens), NY.
Bozigian and Klein clashed first in a winners' side semifinal, as
Tony Ignomirello
, the tour's top-ranked C+ player (11 appearances) and
Ryan Dayrit
, the tour's 3rd-ranked C player (12 appearances), met in the other one. Bozigian and Klein locked up in a double fight that eventually sent Klein to the loss side. Tony "Iggy" sent Dayrit to the loss side 7-4 and joined Bozigian in the hot seat match. Bozigian claimed the hot seat 7-2 over Ignomirello and waited on the return of Klein.
The brothers Estevez went down to identical 7-4 defeats to Klein and Dayrit, who advanced to the quarterfinals. Klein then eliminated Dayrit 8-3 and got a second shot at Bozigian with a 7-4 victory over Ignomirello in the semifinals.
Klein may have had the momentum from loss-side action, but it didn't improve his game play in the finals against Bozigian. Bozigian downed him a second time, this time 7-4 to claim the Amateur Eastern States Championship title.
Tony Robles
thanked Manny Stamatakis and his Steinway Billiards staff for their hospitality, as well as sponsors Predator Cues, Ozone Billiards, PlayNAPL.com, The DeVito Team, Poolonthenet.com, Capelle (BilliardsPress.com), AZBilliards, Pool & Billiard Magazine, Billiards Digest and his own Predator Pro Am team, to include his lovely wife, Gail. Robles also acknowledged the work of UpstateAl and his AZBTv crew for the streaming of selected matches throughout the event weekend. The next stop on the Predator Pro Am Tour, scheduled for the weekend of Sept. 14-15, will be a $1,000-added, double points event, hosted by Cue Bar in Bayside (Queens), NY.