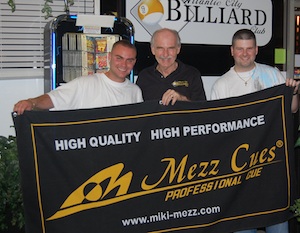 Josh Brothers Owner Gary Conover and Matt Krah
The Mezz Pro-Am Tour made its way to Atlantic City Billiard Club in Egg Harbor NJ Sunday May 2, 2010 with a field of 31 players ready to play. Special thanks to Gary Conover for hosting the event. Gary is the new owner of Atlantic City Billiard Club and all of us at Mezz Cues wish him the best of luck.
Playing for the hot seat was Matt Krah vs Lou Patrikios. This was a great match that went to the hill before Matt Krah came away with the win 7-6 sending Patrikios to the one loss side.
In the finals it was Josh Brothers vs Matt Krah with Brothers having to beat Krah twice to win the event. The first set was all Brothers as he won easily 7-2. The second set also was all Josh Brothers winning by the same score 7-2 to win the event.
I would like to thank all the players that came out to play. Josh Brothers would like to thank Dan Dicola Custom Cues, and Mike Main Line Billiards and
Bob Maidhof
of Drexeline Billiards for all their support.