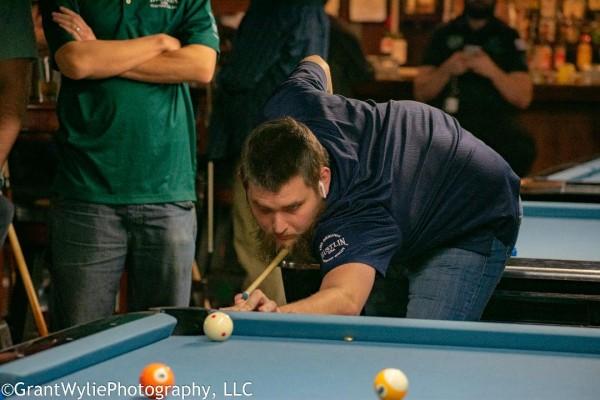 Chris Bruner
At the mid-point of the Action Pool Tour's 2019 season on the weekend of June 15-16, there was a little shuffling among the tour's top players, spearheaded by a strong, come-from-the-loss-side performance by
Chris Bruner
, who backed up his runner-up performance in Stop #5 with a victory over
Brandon Shuff
in the finals of Stop #6 – The Brown's Mechanical 9-Ball Open, which drew 38 entrants to Diamond Billiards in Midlothian, VA.
A player's position in the tour rankings is based on a formula which assigns specific points to a player's finish in an event (20 points for 1st, 19 for 2nd, 18 for 3rd, etc.) times the number of entrants in a given tournament. In addition to the points assigned at an individual event, a player's position on the list is also affected by the number of times he/she competes on the tour.
In the absence of three of the tour's top five players at this most recent event (#1 RJ Carmona, #3
Reymart Lim
and #4
Liz Taylor
), Bruner, who entered the tournament in the fifth spot on the tour rankings advanced two spots to #3, while
Steve Fleming
, who entered the tournament as the #2-ranked player (having appeared in all six of the tour's stops) was able to advance ahead of RJ Carmona to take the top spot. With only 1360 points separating 1st place from 5th place, these positions are likely to change in the second half of the 2019 APT season.
With Carmona, Lim and Taylor absent, the door was open for Fleming to advance to the top spot from the beginning, but he was sent to the loss side 8-6 in the second round by Brandon Shuff. Shuff advanced to shut out Jared Pitts and face
Shorty Davis
in one of the winners' side semifinals. Two rounds earlier, Davis, appearing in his second event on the tour, was responsible for sending Bruner to the loss side 8-3, and then, sending perennial favorite and perennially competitive
Shaun Wilkie
over 8-6.
James Blackburn
, in the meantime, got by Hai Chi, Dave Hunt and
David Hairfield
to face
Shane Buchanan
in the other winners' side semifinal.
Shuff downed Davis 8-2 and was joined in the hot seat match by Blackburn, who'd defeated Buchanan 8-5. Shuff, making his third appearance on this year's tour, got into the hot seat and guaranteed himself a major jump in the tour rankings (from #24 to #9) with an 8-6 victory over Blackburn.
On the loss side, Shorty Davis ran into an immediate re-match against Bruner, who was four matches into his seven-match, loss-side winning streak, which had included, most recently, victories over
Graham Swinson
7-1 and
John Jordan
7-2. Buchanan picked up
Larry Kressel
, who was five matches into his own loss-side winning streak, which had begun with an opening round loss to Jared Pitts. He'd most recently eliminated Shaun Wilkie 7-5 and Dave Hunt 7-1. In the previous round, Hunt had spoiled a potential Kressel/Pitts re-match by defeating Pitts 7-1.
Bruner had a successful rematch against Davis, downing him 7-4. He was joined in the quarterfinals by Kressel, who'd eliminated Buchanan 7-2. With Bruner looking for his sixth straight loss-side win, and Kressel looking for his seventh, the quarterfinal was a somewhat predictable double hill match. Bruner ended Kressel's run with the win and earned himself a shot at Shuff in the hot seat with a 7-2 victory over Blackburn in the semifinals.
As it turned out, Shuff was going to move into the 9th spot in the tour rankings, regardless of the result of the final match. Bruner, as well, would advance to 3rd place, regardless of the outcome. They battled to within a game of double hill, before Bruner edged out in front near the end of the final to win it 10-8.
A Second Chance event drew six entrants, which elicited more of a highly competitive tournament than one might normally expect from such a small field. Brian Sewell and Graham Swinson met in the second winners' side round, with Swinson shutting Sewell out. Swinson moved on to occupy the hot seat. Sewell played and won two loss-side matches for a second shot at him and took full advantage, downing Swinson, double hill, to claim the Second Chance title.
Tour directors Kris Wylie and Tiger Baker thanked the ownership and staff at Diamond Billiards for their hospitality, as well as the event's title sponsor Brown's Mechanical LLC, CSI, Viking Cues, Predator Cues, Diamond Billiard Products, Ozone Billiards, Simonis Cloth, Aramith Balls, Kamui, Chix Cabinets, and
George Hammerbacher
(Advanced Pool Instructor). The next stop on the Action Pool Tour (#7), scheduled for the weekend of July 13-14, will be the APT Bar Box 10-Ball Open, hosted by Peninsula Billiards in Newport News, VA.