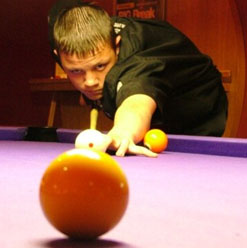 Philip Burford
Remember this name people…Philip Burford. Not only has he got a game that's going to scare every 9 Ball player, both young and old, not only in this country but in Europe too. He has just become the FIRST EVER, British Junior 9 Ball Champion. Burford shone throughout the tournament but none more so than in the final where he beat 16 year old Basildon boy Tony Burton, 11 racks to 5. For getting to the final, both players received free membership of the BPPPA British Professional 9 Ball Tour plus entry to the EPBF European Junior Championship held in Luxembourg this August. Burford also claimed a very collectable limited edition cue sponsored for the Tournament by Viking Cues, a handy cash prize and a trophy big enough to hide in. At just 14 years old, Philip Burford already has almost all of the attributes to make it big in this sport. Potting, position, safety, jumping, text-book cue action, kicking - all impressive and the practise he puts in at his local club at Riley's, Darlington is there for all to see. Though where he goes to practise the confidence, maturity and temperament is a mystery.
With the kind of talent on display for the event, held at the ideal Riley's Stafford, it was always going to be a great day for the future of British pool. Before the event, Burford was among the favourites for the sought after title, having already won the BPPPA Junior Northern title in January. Also hotly tipped were 'The Saint' Matthew Andrews, 17 (BPPPA Junior Midlands Champion and Main Tour regular); Adam Collins, also 17 (recently crowned BPPPA Junior Southern Champion); and the promising talents of Ross Simpson, Tony Burton and Luke Pepperell. Surprisingly, out of these guys only Burford and Burton made the semi final stages, both qualifying through the winner's side of the draw. This owed much to just-turned 18 Adam Stevens who eliminated first Andrews 7 -5 (from 4 -0 down!), and then in a tense hill-hill battle he overcame Ross Simpson, 7 -6 to make the semis. There was consolation for both Andrews and Simpson. They will be joining Philip Burford and Tony Burton as Britain's representatives at the European Junior Championships; Andrews for being the highest placed junior on the Main Tour and Simpson will be proudly flying the flag for Scotland. Without question, these four young men are going to make an impression in Luxembourg.
So to the semi finals then. In the first, Philip Burford faced the encouraging Andy Cragg. Burford showed everyone his steam train impression and it was a close likeness, winning 9 - 3 to make the final. The second semi couldn't have been more different. Tony Burton played close friend and fellow Essex boy Adam Stevens. Another fight to the death for Stevens but he was on the wrong end of the score line this time as Burton held his nerve to win 9 - 8.
The final was in all honesty a one-sided affair and the majority of the sixteen racks played followed the same pattern. Burford breaks - Burford lays safety - Burton eventually fouls or leaves a shot - Burford clears. Saturday 21st May 2005 was no doubt Burford's day. I've got a sneaky suspicion he'll have many more great days. To end is how we started...Remember this name folks…Philip Burford.