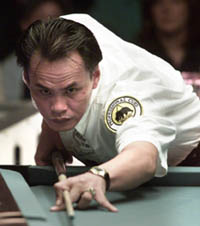 Francisco Bustamante
Day two is complete at the 2005 Masters 9-Ball Championships.
Francisco Bustmante and Santos Sambajon kept to their winning ways and will face each other on Friday. Joining these two on the right side of the board are Robert Ray and Teddy Garrahan. Garrahan scored a 9-7 win over Corey Deuel when Deuel was warned about his soft break. Deuel was getting the requisite number of balls past the side pocket, but was still warned about the break.
Players will fighting it out on the one-loss side include Deuel, Josh Brothers, Mike Davis and Scott Frost. Davis ended Shawn Putnam's tournament with a 9-7 match on Thursday evening.
Brackets are updated with all of the scores from the first two days and will be updated all week long.