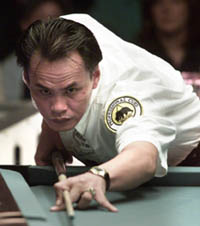 Francisco Bustamante
It was another week with the Philippine trio of Reyes, Bustamante and Pagulayan at the top of the AzBilliards Top 20 list. This time though, it was Bustamante leading the pack.
Johnny Archer climbed 5 spots to get back into the top 5 at #4. Archer won yet another major event last week. Three major events played in and three major wins.
Moving into the #5 spot is Captain Hook, Mike Sigel. Sigel is back in action this week at the Senior Masters and appears to be hitting them strong again.
Sigel leads six new names on the list this week. All of them have been on the list before, except for Tom "Shorty" D'Alfonso who comes in at #15 this week after winning the Joss Tour event over the weekend.
Placement on the AzBilliards Top 20 list does not indicate playing ability. Rankings are determined by fan interest and are measured using traffic logs on the AzBilliards website.
Photo courtesy of Matchroom Sport