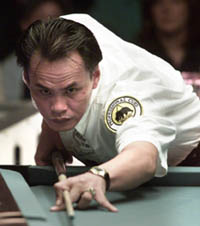 Francisco Bustamante
Francisco "Django" Bustamante won an error-filled opening match against Taiwan's "Little Monster" Po Cheng Kuo to give the Filipinos an encouraging start on the first day of the final leg of the San Miguel Asian 9-Ball Tour at Robinson's Galleria along busy Ortigas Avenue in Metro Manila yesterday.
Bustamante who hasn't won a leg on the prestigious Asian 9-Ball Tour made mistakes of his own early in the match which didn't allow him to pull away from the youngster Kuo who interspersed some good shots with some terrible errors. The Taiwanese who reached the semi finals of last years World Pool Championship committed seven unforced errors, the last when Kuo scratched with the score at 8-7 in Bustamante's favor.
Bustamante jumped on the opening and quickly cleaned up the rack to win and move into the next round. Despite committing three errors of his own Bustamante was the steadier player and his vast experience on the international circuit eventually helped him survive a gritty struggle with Kuo.
After a see-saw battle with the score tied at 3-3, Bustamante capitalized on one of Kuo's many errors when the Taiwanese badly overcut a shot on the 6-ball to open up a two rack lead at 5-3. After Bustamante and Kuo both made mistakes, the Filipino scratched on the break to enable Kuo to tie the match once again at 6-6. A solid break and an easy runout gave Bustamante a 7-6 edge but Bustamante failed to use his jump cue on a tough shot on the 2-ball and when his masse failed Kuo evened the count at 7-7.
With Bustamante up 8-7 disaster struck Kuo who scratched on the 16th rack enabling the former world No. 1 to calmly end Kuo's agony with a 9-7 win.