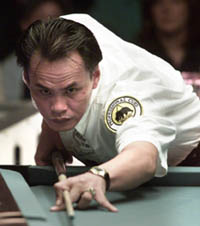 Francisco Bustamante
Francisco Bustamante completed an undefeated run through the field to win the Hard Times Summer Jamboree's 9-Ball event on Thursday.
After a bye in the first round, Bustamante sent John Schmidt to the one loss side in round two and never looked back. Wins over young Filipino hotshot Deo Alpajora, Joe Gebron, Jeff Gregory, Gerardo Jamito and Tyler Edey earned Bustamante his place in the finals.
After the loss to Bustamante, John Schmidt scored 10 straight wins on the left side of the board to earn another shot at Bustamante in the finals.
Even with the confidence of 10 straight match wins, Schmidt's results against Bustamante were no better the second time as Bustamante scored an 11-7 win in the extended final match.
The one pocket division at the Summer Jamboree will get underway on Friday morning and we will have complete brackets to go along with the 9-ball brackets.