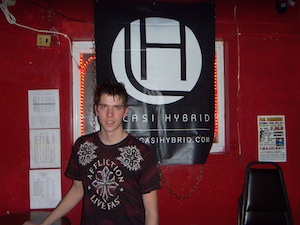 Casey Brokus
The thirty-seventh stop on the 2010-2011 Lucasi Hybrid All American Tour (produced by the American CueSports Alliance – ACS) was showcased in Columbus Junction, Iowa, on Saturday, March 5, at Tequila Bar. The $1,000 added "No Masters" event featured ninety-three players in a double-elimination 8-ball format on 7-foot bar boxes. Dave Martin (Burlington, IA) and Travis Frazelle (Moline, IL) converged on the hot seat match via semifinal wins over Casey Brokus (Dubuque, IA) 3-1 and Rex Houston (Ft. Madison, IA) 3-2 respectively.

On the B-side Dan Sundstrom (Cedar Rapids, IA) knocked John Gorsch (Cedar Rapids, IA) into 7th place 3-1, and Rob Hess (Moline, IL) tied Gorsch at the hands of Will Thompson (Clinton, IA) 1-3. Thompson and Houston then exited at 5th place in the next round to the cues of Casey Brokus 2-3 and Dan Sundstrom 1-3 respectively. Brokus then stopped Sundstrom's progress at 4th place by a 3-2, and Brokus then won a trip to the tourney finals by eliminating Travis Frazelle at 3rd place 3-1. It appeared that Casey Brokus was amply warmed up for the title match, as he claimed the first-place prize over Dave Martin in two sets – 3-0, 3-1 !

By virtue of Casey Brokus being the highest-finishing ACS member in the event, he qualified for a free 8-Ball singles entry into the 2011 Lucasi Hybrid ACS Nationals at the Tropicana Las Vegas – courtesy of the ACS. The ACS wishes to thank sponsors Lucasi Hybrid Cues, Championship Billiard Fabric and Nick Varner Signature Cases for their support in donating "Value-In-Kind" product for this and all stops on the Lucasi Hybrid All American Tour. All entries in the Tour are also entered into a drawing in an end-of-Tour drawing for four (4) $400+ value Lucasi Hybrid Cues courtesy of Ozone Billiards. Sponsorship opportunities and tour stop openings are still available for the 2010/2011 All American Tour by contacting the ACS.

The Tour moves to the Pontiac Crystal Palace in Pontiac, Illinois, on Saturday, March 19, with a $500 added 8-Ball stop (contact Chris Wilder at 309-261-2256). Further information, entry details and schedules for the 2010/2011 Lucasi Hybrid All American Tour are available at www.americancuesports.org.