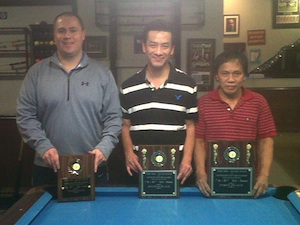 Bryan Jeziorski, Raymond Lee, Ben Castaneros
Recently elevated to Open/Pro status on the Tri-State Tour,
Dan Cintron
was ineligible to participate in the $2,000-added, A-D handicapped, Double Points Tri-State event on the weekend of January 7-8. In the absence of tour representatives, who were dealing with a family crisis,
Cintron did, however, step in and run the tournament, and watched (occasionally itching to be a part of it), as
Ben Castaneros
came back from a defeat among the winners' side final four to double dip hot seat occupant Raymond Lee. The event drew 61 entrants to Gotham City Billiards in Brooklyn, NY.
In their first of three, among the winners' side final four, Lee sent Castaneros west 6-1, as
Bryan Jeziorski
was busy sending
Alex Osipov
over 7-5. Lee then prevailed 7-4, and waited in the hot seat for the return of Castaneros.
First up for Castaneros on the loss side was
Mike Strassberg
, who'd benefited from a forfeit by Luis Jimenez, and defeated
Andrzej Kaldan
6-2. Osipov picked up
Ron Gabia
, who'd gotten by
Arturo Reyes
7-3 and
Ed Culhane
7-5. Castaneros defeated Strassberg 7-4 and advanced to the quarterfinals against Osipov, who'd downed Gabia 7-2. A 6-4 victory for Castaneros in those quarterfinals, was followed by a 7-4 semifinal victory over Jeziorski.
Castaneros gave up only three racks in the two-set finals against Lee. He gave up two in the opening set, and one in the second, to capture the event title.
Tour representatives thanked the staff and management of Gotham City Billiards for their hospitality, as well as sponsors Sterling-Gaming, Ozone Billiards,
Ron Tarr
Cues, Kamui Tips, Phil Capelle, BlueBook Publishing, and Human Kinetics.