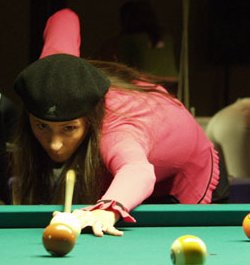 Dawn Hopkins
Main Street Productions is excited to announce a Challenge Match between the star of the movie "9-Ball", Jennifer Barretta and a top WPBA player and ESPN Commentator Dawn Hopkins. This Match is in conjunction with the Super Billiards Expo 2, running August 3rd - August 6th 2006 at the Valley Forge Convention Center in Valley Forge, Pennsylvania. The Challenge Match is to promote our thrilling new feature film "9-Ball", starring Jennifer Barretta.
The Challenge Match is a 9-Ball Race to 50. Competition will start Friday August 4th at 2pm, continuing Friday evening at 7pm. The Match will resume on Saturday at 2pm, with the second match of the day taking place at 7pm. The Championship Challenge Match will be Sunday at 2pm. This event is free to the public. Please visit our website mainstreetproductions.com for more information on this exciting Challenge Match, as well as other upcoming events promoting the feature film "9-Ball".
The movie "9-Ball" follows the journey of an amateur player as she struggles to beat the odds and follow her dreams, determined to become the Women's 9-Ball Champion of the World. "9-Ball", currently in pre-production, will be directed by Anthony Palma of Main Street Productions. Palma also created the story, co-wrote the screenplay and is producing the film. Kim White, President of the WPBA, will appear in the film as herself as a featured extra. White says of the film "'9-Ball' is a movie that will inspire women to become professional players, and shows the struggle, determination, and persistence that is necessary to become a champion." Other top WPBA members Karen Corr and Julie Kelly have also demonstrated their support of the film, serving as technical advisors on the script. Both players will appear in "9-Ball" as themselves. WPBA player Dawn Hopkins will perform in the film's climactic championship scene as the commentator. As Barretta puts it: "This project is the most exciting thing happening in pool right now, '9-Ball' is destined to become a classic."
Major professional pool and billiard organizations, including the APA, WPBA and BCA, have all shown their full support of the film. Leading manufacturers Olhausen Billiards and Aramith are taking advantage of this unique professional pool movie through product placement in the film and Olhausen is supplying the table for the Challenge Match between Jennifer Barretta and Dawn Hopkins. "9-Ball" has been written about in Pool & Billiard Magazine, Billiards Digest, AZ Billiards, Cue Times and The Break. Please watch our website mainstreetproductions.com for updates on the feature film "9-Ball".