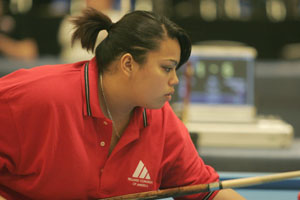 American Mary Rakin
Only four young ladies and four young men remain in the running for the WPA World Junior Championships in Willengen, Germany. On Friday all but one male and one female will fall to the wayside and make way for the new champions.

On the ladies side, last year's World Champion, Mary Rakin of the USA, has made it into the semi-finals by turning aside the very sharp cue of Kristina Schagan of Germany by the slimmest of margins, 9-8. She will find herself battling another German, Kim Witzel, in her semi-final match. Witzel earned her berth by destroying Si Ming Chen of China, 9-4.

The other ladies semi will find Tina Buhnen of Germany matching up against the only remaining undefeated female, Sabrina Neverschnig of Austria. Buhnen won 9-6 against Sina Petry today while Neverschnig barely got by Denise Wilkinson of New Zealand 9-8.

The final four men include Kui Ming Lin of Taipei who will face his countryman Pin Yi Ko. These two arrived here after Lin bested Tomoya Iima of Japan 11-8 and Attila Bezdan of Hungary 11-10 while Ko defeated Hao Xiang Han of Hong Kong 11-2 and Mathew Lawrenson of Great Britain by the same wide margin.

On the other half of the bracket our two advancing cueists are the defending champion Yu Lun Wu of Taipei and Yusuke Shibata of Japan. Wu remains undefeated this week, today overpowering Nico Wehner of Germany 11-6 and Hee Sup Kim of Korea 11-6. Thomas Luttich ended the run of the final American, Landon Shuffett, 11-6 and then lost to Shibata 11-9 after Shibata had already beaten Rusian Chinahov of Russia 11-8.

For full brackets please see www.wpa-tour.com and click on 'sheets' on the left hand side of the page.