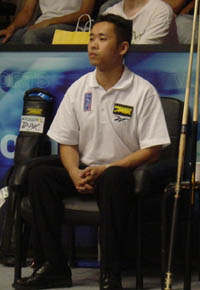 Charlie Williams was kept in his seat early on Saturday
The team from Chinese Taipei has rode a 7-3 record on Saturday to an 8-7 lead after two days of the 2003 World Stars Invitational Team Cup.
Trailing by the score of 4-1 after the doubles matches on Friday, the team from Chinese Taipei started Saturday play with back-to-back wins. Po-Cheng Kuo dominated reigning World Champion Thorsten Hohmann 7-1 and Chin-Ching Kang beat Haruyoshi Hinokiyama from Japan 7-4.
World Team captain Ralf Souquet got his team going next, with a 7-0 whitewashing of Chinese Taipei captain Fong-Pang Chao. This brought the score back to 5-3 in the favor of the world team.
The two teams split the next two matches with Hui-Chan Lu defeating Hisashi Yamamoto from Japan 7-1, and Rodney Morris from the USA defeating Chinese Taipei sensation Ching-Shun Yang 7-3. This kept the World Team lead of two matches at 6-4.
The Chinese Taipei team then fought back to tie the match at 6-6 with back-to-back wins. Tung-Yu Yang defeated Korean Shin-Young Park 7-3 and Hui-Kai Hsia beat Canadian Alex Pagulayan 7-2.
Charlie Williams pulled the World Team back into the lead at 7-6 with his 7-4 win over Che-wei Fu. Fu came out strong and ran the first four racks, but misses the 9-ball in the fifth game and was unable to do anything as Williams won the next seven games.
This left the Chinese Taipei team trailing by one match with only two more matches scheduled for the day. A 7-6 win by Pei-wei Chang over Mika Immonen brought the event to a tie at 7-7 with one match to go.
The final match of the day would prove to be anti-climactic as Kun-Fang Lee from Chinese Taipei rolled over Korean Young-hwa Jeong 7-1 to give the Chinese Taipei their first lead at 8-7.
Line-ups have not been announced for Sunday matches yet.