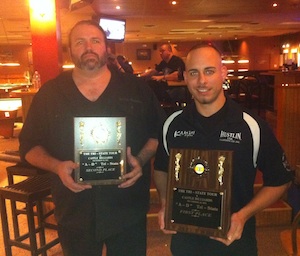 Rick Shellhouse and Dan Cintron
Dan Cintron
began 2011 with two victories on the Tri-State Tour, and then slipped into something of a 'bridesmaid' role three times. He was defeated twice as the hot seat occupant (by
Daniel Dagotdot
in August, and Shi Wei Chang in September), and had an eight-match, loss-side winning streak come to an abrupt halt when he and two others opted out of continuing an October event that was greeting the dawn. On Saturday, December 10, at a $500-added, A-D handicapped event that drew 41 entrants to Castle Billiards in East Rutherford, NJ, Cintron advanced to the hot seat, following a victory over
Rick Shellhouse
, which, later, by mutual agreement, became the deciding match.
Cintron had a "fairly easy" ride to the hot seat, in spite of one double hill challenge from
Paul Raval
. From among the winners' side final four, Cintron faced and defeated
Scott Bannon
7-5, as Shellhouse was sending George Osipovich west 6-3. In what proved to be his final victory, he sent Shellhouse to the semifinals 10-7.
Bannon moved to the loss-side and ran right into the man he'd sent there earlier –
Ed Culhane
– who was in the midst of a six-match winning streak that would propel him into the semifinals. Culhane had defeated
Scott Simonetti
7-4 and
Mike Zimny
7-2 to set up the re-match. Osipovich picked up Greg Costanza, who'd gotten by
Eddie Perez
7-5 and
Kyle Bubet
7-3.
Culhane wreaked his vengeance with a 7-3 victory over Bannon, as Osipovich was busy surviving a double hill battle versus Costanza. Culhane concluded his six-match run with a 7-5 victory over Osipovich in the quarterfinals, and ran into a determined Shellhouse, who allowed him only a single rack in an 8-1 semifinal victory that proved to be the final match of the evening. Cintron and Shellhouse, good friends, opted out of a final match, declaring the undefeated Cintron as the winner.
Tour representatives thanked the staff and management of Castle Billiards for their hospitality, as well as sponsors Sterling-Gaming, Ozone Billiards,
Ron Tarr
Cues, Kamui Tips, Phil Capelle, BlueBook Publishing, and Human Kinetics. The Tri-State's final stop of the year (not the tour's season) is scheduled for Sunday, December 18, at The Cue Bar in Bayside, NY.