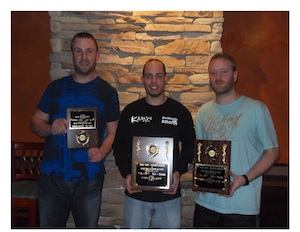 Justin Muller, Dan Cintron and Mike Harrington
Dan Cintron
, poised to advance into the hot seat during Sunday, February 13's stop on the Tri-State tour, got sidetracked by a Dan Hatch protégé,
Justin Muller
. Cintron returned, though, to avenge the loss in the event's semifinals, and went on to win the $1,000-added, A-D handicapped event. Hosted, for the first time, by BQE Billiards in Jackson Heights, NY, the Tri-State stop drew 33 entrants.
Once Muller had dispatched Cintron to the west bracket 7-1, from among the winners' side final four, he moved into the hot seat match against Mike Harrington. Harrington had just sent
Richard Ng
to the one-loss side in a double hill match. Harrington then prevailed in another double hill match that left him in the hot seat and Muller moving over for a rematch versus Cintron.
First up for Cintron in the west bracket was
Zee Shan Saidar
, who'd defeated
Trevor Heal
7-5 and
Raymond Romanski
7-1. Ng picked up
Randy Mackin
, who'd gotten by Ben Costaneros 6-3 and
Mike Ettl
6-4. Cintron and Ng advanced to the quarterfinals, once Cintron had downed Saidar 8-6 and Ng dispatched Mackin 6-1. Cintron went on to defeat Ng 9-7 to earn his rematch against Muller.
While Muller ended up winning more games over their two matches (12-8), Cintron took their semifinal second match 7-5, for a crack at Harrington in the hot seat. The single race to 7 began badly for Cintron, as Harrington opened up a quick 4-0 lead. Cintron came right back to tie it, though, initiating a series of back and forth games that had them tied, still, at 6-6. Cintron, at this point, surged ahead by three, and though Harrington was able to win the 16th rack, Cintron won two straight to close it out and take home the event's top prize.
Tour representatives thanked the owners and staff of BQE Billiards for providing a terrific venue, which included a beautiful dinning area, long bar, good playing equipment and a pleasant atmosphere. Thanks were extended, as well, to Sterling-Gaming, Ozone Billiards,Viking Cues, Ron Tarr Cues, Phil Capelle, BlueBook Publishing, and Dr. Dave Billiards Instructional Products for their sponsorship of the event.