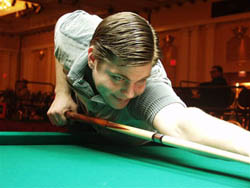 Mike Davis
The Joss Northeast 9-Ball Tour event at Classic Billiards is underway with 59 players looking for the $2500 first prize.
Two great matches already in the first round will be Santos Sambajon vs Alex Pagulayan and Mike Davis vs Earl Strickland. Strickland was the winner of this event last year, but Davis has been playing great recently and knocked off Corey Deuel, Pagulayan, Sambajon and Immonen last week in Valley Forge.
Other top players in this event include Charlie Williams, Evgeny Stalev and 'The Earthquake' Keith McCready.
Complete brackets are online and will be updated all weekend along with pictures from the event.
Photo courtesy of Diana Hoppe - Pool Pics by Hoppe
Additional Coverage:
2002 Event Coverage | 2002 Photo Gallery