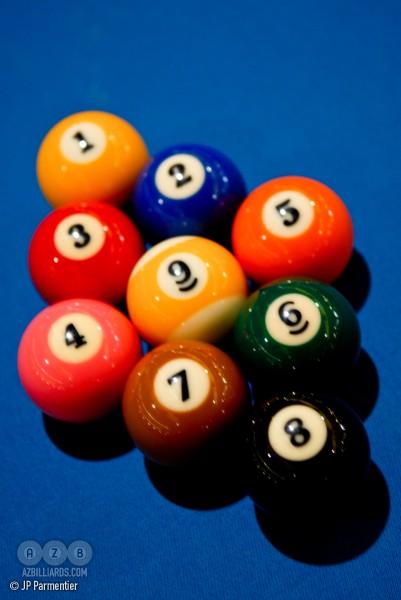 Back in June, Mike Clevinger split the top two prizes at a Viking Cues' Q-City 9-Ball Tour stop in Janet Atwell's room, Borderline Billiards in Bristol, TN to claim his first official event title, with the 'no-final-played' *. He split the cash with Atwell herself, who'd won three on the loss side for the right to face him in the finals that never were. This past weekend, Saturday, July 10 (spilling over into early AM Sunday), Clevinger claimed his second event title (*) on the tour, this time, splitting the cash with Derek Bonds, who, like Atwell before him, had won three on the loss side for the right to face Clevinger in the finals. The $1,000-added event drew 37 entrants to Sonny's Bistro & Billiards in Princeton, WV.
As it turned out, Clevinger and Bonds allowed their first and only meeting, in a winners' side semifinal, to stand as the definitive event winner. Clevinger won that first matchup, double hill (6-4). Cole Lewis, a 17-year-old junior player, joined Clevinger in the hot seat match after sending Wayne Hubbard to the loss side 7-1. Clevinger claimed the hot seat 6-2 over Lewis.
On the loss side, Bonds picked up Daniel Adams, who'd eliminated Reid Vance, double hill, and room owner John Brockman 6-4 to reach him. Hubbard drew Collin Hall, who'd shut out Travis Guerra and downed Jamie Sparks 6-2.
Hall defeated Hubbard 6-2, and in the quarterfinals, met up with Bonds, who'd eliminated Adams 5-2. Bonds then defeated Hall 5-3 in their quarterfinal match.
Bonds completed his loss-side comeback with a 5-3 victory over Lewis in the semifinals. Bonds and Clevinger agreed to the split, leaving Clevinger as the event's official title holder.
Tour director Herman Parker thanked John Brockman and his Sonny's Bistro & Billiards staff for their hospitality, as well as title sponsor Viking Cues, BarPoolTables.net, Dirty South Grind Apparel Co., Diamond Brat, Federal Savings Bank's Mortgage Division and AZBilliards. The next stop on the Viking Cues' Q City 9-Ball Tour, scheduled for this weekend, July 17-18, will be a $500-added Scotch Doubles tournament, hosted by West End Billiards in Gastonia, NC.