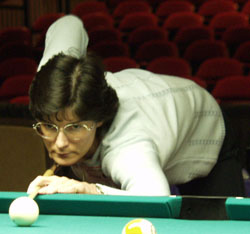 Karen Corr
The Joss NE 9-Ball Tour held their final event of the regular season this weekend with a field of 49 players at Comet Billiards in Parsippany, NJ.
Sunday play started with four players on the winners side. Al Lapena defeated Karen Corr 9-5 and Bucky Souvanthong beat Jonathan Smith 9-3. The match for the hot-seat was a close one, but Al Lapena pulled out the hill-hill win.
On the one loss side, Karen Corr scored a hill-hill win over Santos Sambajon and then started rolling through opponents. Joey Korsiak fell 9-5, Bucky Souvanthong was next and he fell 9-4 to put Corr in the finals and a rematch against Lapena.
The first set of the double elimination finals saw Corr score a 9-4 win and the second set was not much different with Corr scoring a 9-5 win.
Corr earned $1420 for first, while Lapena settled for $1000 in second place prize money.
The Joss NE 9-Ball Tour is now done until the Turning Stone Classic IX 9-ball Open on August 16th - 19th at Turning Stone Casino in Verona, NY. Spots in that tournament are filling fast and players are urged to reserve their spot now.
File photo courtesy of Roberta Case