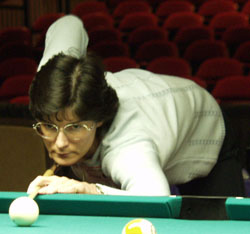 Karen Corr
Mike Zuglan brought his Joss NE 9-Ball Tour to Adirondack Billiards in Glens Falls, NY this weekend where a field of 37 players faced off for nearly $5000 in prize money. In the end, Zuglan was the best man in the event. Unfortunately, that wasn't good enough for first place.
The winners side came down to Danny 'Kid Delicious' Basavich and #2 ranked WPBA star Karen Corr. Basavich held an early lead in this match, but Corr came back to earn a 9-8 win and the hot-seat.
Basavich went to the left side of the board and found Zuglan with revenge on his mind. Zuglan had lost to Basavich 9-4 on Saturday, but got his revenge with a 9-7 win over Basavich in the semi-finals.
The final match between Corr and Zuglan was close the whole way. Neither player was able to take more than a one game lead and it was Zuglan who got to the hill first at 8-7. Zuglan came up dry on his break in the next game and watched as Corr ran the rack to tie the match at 8-8. Zuglan would not get another shot at Corr as she broke and ran the final rack for the 9-8 win.
Corr earned $1360 in prize money, while Zuglan took home $1000 for second. Basavich and Mike Hurley filled out the top four spots. The tournament win was Corr's second career Joss Tour win.
The Joss NE 9-Ball Tour will be at Ultimate Billiards Club in Berlin, CT on October 15th - 16th for their next event.
Complete Payouts:
1st Karen Corr $1360
2nd Mike Zuglan $1000
3rd Dan Basavich $800
4th Mike Hurley $600
5th/6th Dave Varano, Pierre Sauve $400
7th/8th Julie Kelly, Tim Parisian $200

File photo courtesy of Roberta Case