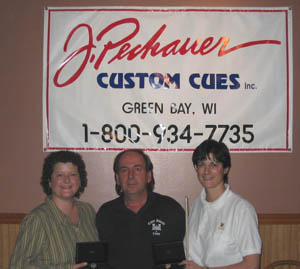 Julie Kelly, Rich Sacco and Karen Corr
Karen Corr added yet another title to her long list of accomplishments this weekend with a win at the NJ State 9-Ball Championship held by the J. Pechauer North East Women's Tour at Castle Billiards in East Rutherford, NJ.
Corr was undefeated until the hot-seat match, where she lost a hill-hill match to Julie Kelly. Corr then took on a red-hot Jennifer Barretta on the one-loss side. Barretta had been mowing down opponents all weekend. Barretta came out early to win the first game, but then Corr took complete control of the match. Corr won the next five games by never allowing Barretta an offensive shot at the table. A late match foul by Corr allowed Barretta a shot, which she capitalized on for another game. In the end, it was Corr with the 7-3 victory.
Julie Kelly kept the extended final match close, but Corr won it 9-6 for the title.
Corr collected $1300 for first place, while Kelly settled for $900 in second place prize money. Barretta and Gail Grecar filled out the top four spots. The US Open qualifier that was up for grabs in this event went to newcomer Van Than. Than, who manages a room in Burlington VT, won a playoff with Ana Marta Silva for the qualifier.
This event was sponsored by Castle Billiards as well Omni Financial Associates of Rutherford. Castle Billiards owner Rich Sacco offered a special $500 prize to any player that could snap a 9-ball on the break to win a hill-hill match on Saturday. None of the five players that had chances were able to make the 9-ball. Sacco increased the prize to $1000 if a player could accomplish the feat on Sunday but the two ladies that had chances were unable to pull it off. Sacco invited the final eight players to take one more shot at a 9 on the break for the $1000 prize fund, but no one was able to make the 9-ball.
The JPNEWT tour will be at The Pocket Billiard Lounge in Binghamton, NY on October 4th - 5th for another WPBA Qualifier.
Complete Payouts:
1st Karen Corr $1300
2nd Julie Kelly $900
3rd Jennifer Barretta $600
4th Gail Grecar $400
5th/6th Ellie Chang, Fran Crimi $200
7th/8th Ana Marta Silva, Van Than $100