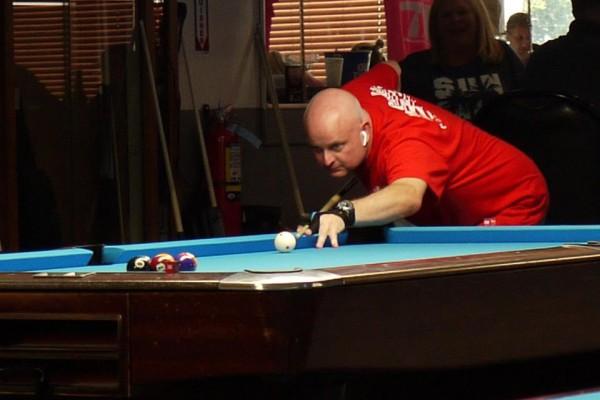 George Crawford
They were all set to get underway on the August 4-5 stop on the Viking Cues' Q City 9-Ball Tour at Buck's Billiards in Raleigh, NC when the lights went out. With no chance of restoring power in the immediate future, tour directors Herman and Angela Parker scrambled to find someplace where the event's 25 entrants could go to shoot some pool. They found one about 11 miles/15 minutes away and shifted operations to Shotmakers Sports Bar and Billiards in Garner, NC. They settled into the event which was won by
George Crawford
, who went undefeated through the field, and twice, downed the tour's most prolific competitor,
JT Ringgold
.
They met first in a winners' side quarterfinal. With Crawford racing to 8, and Ringgold to 10, Crawford sent Ringgold to the loss side 8-8, advancing to meet Ricky Dickson in a winners' side semifinal.
Junior Avery
and Bobby Glen squared off in the other one.
Crawford downed Dickson 8-2, as Avery got by Glenn 6-1. Crawford claimed the hot seat 8-4 over Avery and waited for Ringgold to get back to him from his five-match, loss-side run.
That loss-side run would encompass a total of 63 games, 50 of which Ringgold won to challenge Crawford a second time. He opened the trek back to the finals with back-to-back 10-1 victories over Casey Cork and
Daniel Adams
, which set him up to face Glenn. Dickson drew
Anthony Mabe
, who'd eliminated Chris Roades 7-5 and
Lauren Kauffman
7-3 to reach him.
Ringgold and Mabe handed Glenn and Dickson their second straight losses; Ringgold advancing to the quarterfinals 10-3 over Glenn and Mabe, joining him after a double hill win (7-4) over Dickson. Ringgold then stopped Mabe's run 10-3 in the quarterfinals, and stopped Avery's single-game, loss-side bid 10-5 in the semifinals.
Ringgold put up a fight in those finals, chalking up one more rack against Crawford than he had in the winners' side quarterfinal match that had sent him to the loss side. But it wasn't enough. Crawford persevered in a double hill battle (8-9) that earned him his first Viking Cues' Q City 9-Ball title.
Tour directors Herman and Angela Parker thanked the ownership and staff of both Buck's Billiards and Shotmakers Sports Bar and Billiards for their cooperation and assistance with the 'lights out' change of venue, as well as title sponsor Viking Cues, Delta 13 Racks, AZ Billiards and Professor Q-Ball. The next stop on the tour, scheduled for this weekend (August 11-12), will be a $250-added event, hosted by Mickey Milligan's in New Bern, NC.